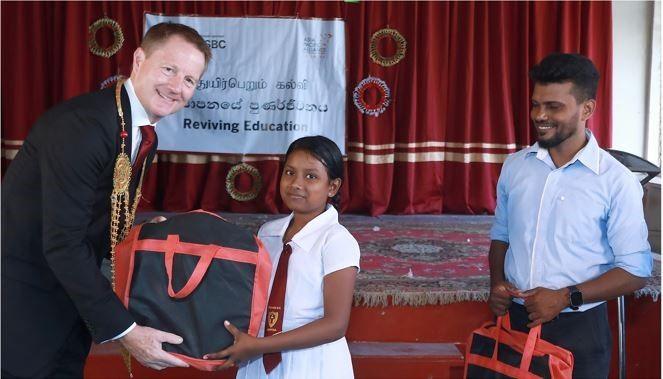 HSBC supports 125 children at St James Girls School in Jaffna
HSBC Sri Lanka, in celebrating 130 years in Sri Lanka, partnered with A-PAD SL to distribute 125 stationery packs to St. James' Girls School in Gurunagar, Jaffna. This collaboration is an extension of HSBC's corporate social responsibility activities aimed at reviving education in the region. The Jaffna area has faced numerous challenges, especially in providing access to education for children due to the impact of the civil war in Sri Lanka. This project expects in contributing the overall development of the local community as education plays a vital role in economic growth and social progress.
The event commemorating this important initiative was attended by Mr. Mark Surgenor, CEO of HSBC Sri Lanka & Maldives and representatives from HSBC Bank. During his address to the students, Mr. Surgenor emphasized the utmost importance of education as a critical component of overall development. Drawing on his extensive experience, he stressed the need for unwavering commitment to education, recognizing its role as a key driver of progress and prosperity.
Alongside revitalizing educational opportunities, HSBC Sri Lanka has launched a tree planting campaign at St. James' Girls School. This initiative aligns with HSBC's commitment to sustainable development and reflects its dedication to nurturing environmental consciousness among the younger generation.
HSBC Sri Lanka has been dedicated to education and sustainable development for a hundred years. The collaboration with A-PAD SL and the support provided to St. James' Girls School demonstrate HSBC's enduring commitment to making a positive and lasting impact on the lives of students and the wider community.