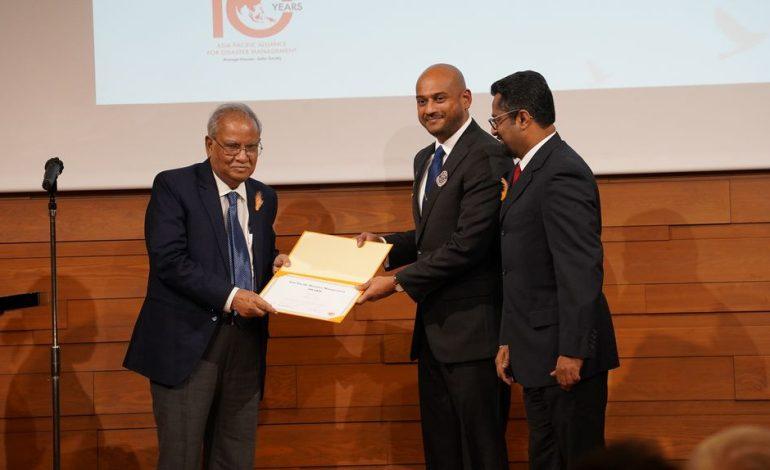 News 1st, Aitken Spence PLC and HSBC Sri Lanka honoured at A-PAD global event in Tokyo, Japan
On February 28, 2023, A-PAD celebrated its 10th anniversary with a ceremony held at the International House of Japan in Tokyo. The event was attended by numerous high-ranking Japanese government officials who commended the impactful work carried out by the organization across the Asia- Pacific region.
During the event, News 1st was awarded for its innovative leadership and commitment to popularizing disaster mitigation practices via its media outlets and the award was presented to Mr. Chevaan Daniel, Group Director, Capital Maharaja Group and Mr. Suranga Senanayake, Channel Head of News 1st by Prof. Quazi Quamruzzaman, Chairman of A-PAD international. A-PAD also honoured its long-standing corporate partners, Aitken Spence PLC, and HSBC Sri Lanka, for their dedication to incorporating sustainable and innovative disaster risk reduction (DRR) strategies into their businesses both locally and globally. HSBC Sri Lanka was commended for adopting a multifaceted approach to disaster response and recovery through its corporate social responsibility (CSR) initiatives.
In addition to its corporate partners, A-PAD also recognized the Connecting Business Initiative (CBi), a valued partner of A-PAD Sri Lanka. CBi was commended for enhancing global partnerships through international exposure, knowledge sharing, and increased connectivity. CBi has been instrumental in promoting disaster resilience and response across the region by providing A-PAD with additional capacity to enhance and advocate for business resilience among the private sector. Mr. Firzan Hashim, COO, A-PAD international and the country director of A-PAD Sri Lanka accepted the Certificates of Appreciation on behalf of the said organizations and is scheduled to officially hand them over to the representatives of the each organization upon return.
While congratulating A-PAD on reaching a decade of impact, H.E. Mr. E. Rodney M. Perera, Ambassador of Sri Lanka to Japan, expressed his sincere admiration and appreciated the work conducted by A-PAD SL and its fellow member networks. The ceremony provided an opportunity to celebrate A-PAD's decade of impact and to recognize the contributions of its partners in advancing disaster resilience and response. The event served as a reminder of the importance of incorporating sustainable and innovative DRR strategies to businesses in building a resilient future for all.