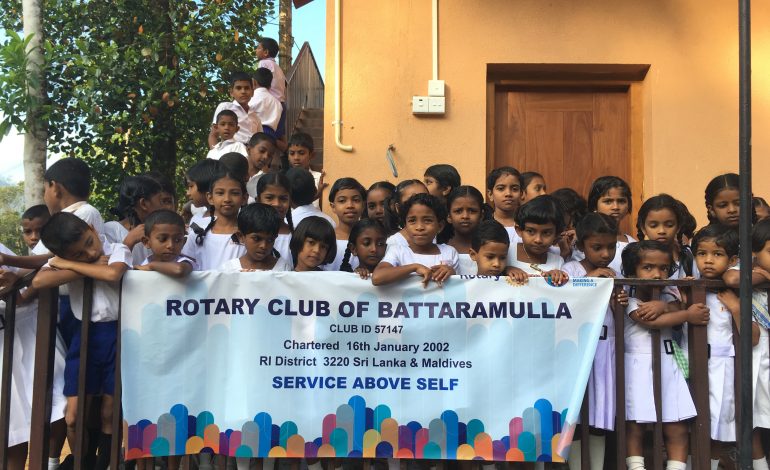 Rotary Club of Battaramulla Uplifts Disaster Stricken Schools
Whilst silence hums  over the floods of 2017, Rotary Club of Battaramulla (RCB) approached A-PAD Sri Lanka in supporting the forgotten victims of floods/landslides that affected the island in May 2017. In supporting   the   affected   communities, the   education   sector   which   needed more attention was sought after through this initiative, and henceforth 01 school in the Matara District and 4 schools in Bulathsinghala were chosen following several field visits. During this venture, RCB's main aim was to provide water, sanitation and educational support. Thus, we reached out to:
WP/HO  Gallapahala      Kanishta Vidyalaya – Bulathsinghala Division, Kalutara
 2. WP/HR Veyangalla Muslim Maha Vidayalaya – Bulathsinghala Division, Kalutara
 3. WP/HR Polegoda   Vidayalaya   – Bulathsinghala Division, Kalutara
 4. WP/HR Mahagama Kanishta Vidyalaya, Bulathsinghala Division, Kalutara
 5. Kalubovitiyana  Maha   Vidyalaya   – Kalubovitayana, Matara
The schools were provided with Past paper books (Grades 05 – Scholarship exam, Grades 11 –   O/L examination, Grades 13 – A/L examination), library books, and home-science kits, along with two schools receiving water tanks and fittings,  and  chairs  and  cupboards  for the libraries. Mr. Warren Solomonz, the president of RCB, Mr. Channa Marambe and  Mr. Rohan  Amirthiah  joined A-PAD SL team in distributing the items to the children.