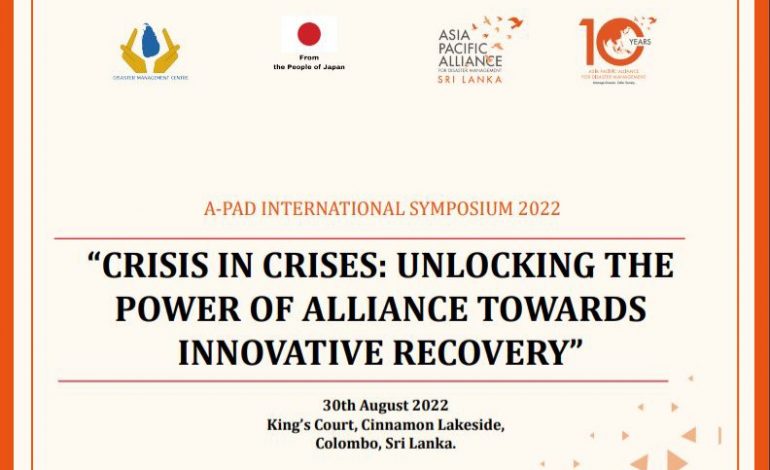 A Contribution to Achieve Economic Revival Amidst Crisis: A-PAD SL International Symposium 2022
The Asia Pacific Alliance for Disaster Management Sri Lanka (A-PAD SL) held its annual international symposium for 2022 under the theme "Crisis in Crises: Unlocking the Power of Alliance towards Innovative Recovery" recently at the King's Court, Cinnamon Lakeside, Colombo, Sri Lanka.
This publication shares thought provoking recommendations conveyed during the discussion by experts from various sectors, representing both the public and private sectors. The purpose of this publication is to address best practices for achieving long-term recovery through a multi-sectoral approach, identifying and unlocking the capacity of the private sector.
This report serves as a supplement to private and public sector organizations as it addresses the following key questions: what are the opportunities for change and recovery to accelerate the strengthening of the local economy; how to utilize every resource to generate an impact in reviving the economy; and why, at this critical juncture, building both international and national partnerships is critical.
The first panel focused on the theme "Revive and Reset: Resilient Recovery as a Counterbalance to a Multi-Dimensional Crisis," attuned to the need to seize and maximize on every opportunity, with the aim of seeing immediate and long-term benefits for the country's economy.
The second panel focused on "Regaining Reserves: A Regional Perspective on Robust Economic Action," proposing regional best practices for economic recovery while prioritizing multi-sector development in order to achieve economic stability by producing economically favorable opportunities to generate income for the country as a whole.
The recommendations sighted in the report are being advocated with relevant authorities for inclusion and necessary action.
To access the report: link