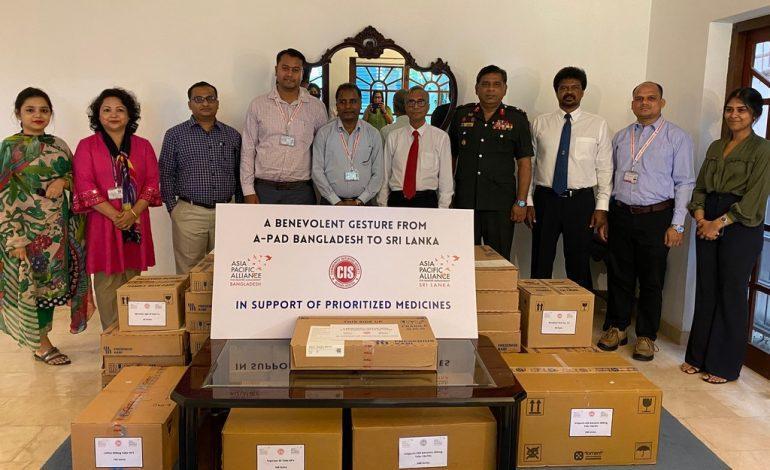 A-PAD Bangladesh Provides Consignment of Essential Medical Supplies to Sri Lanka
Given the economic crisis in Sri Lanka and subsequent impacts on various sectors including the health, the Asia Pacific Alliance for Disaster Management (A-PAD) has been actively supporting the government's efforts. Apart from A-PAD Sri Lanka platform, its regional platforms have also reached out to the Island with generous contributions.
A-PAD Bangladesh in partnership with Community Initiative Society (CIS) and Dhaka Community Hospital Trust (DCHT) provided significant means for the procurement of pediatric oncology priorities, with special consideration for the health and safety of the children of Sri Lanka.  This gesture of goodwill was coordinated by A-PAD Sri Lanka and facilitated by the Disaster Management Centre (DMC) in consultation with the Ministry of Health.
A-PAD Bangladesh representatives handed over the consignment of vital and essential medicine to the Prime Minister's Secretariat for use by hospitals directed by the Ministry of Health.  
In view of this occasion, representatives from A-PAD Bangladesh, CIS and DCHT, visited the country, while also present were Mr. Palitha Wickramage from the Prime Minister's Secretariat, Maj. Gen. Sudantha Ranasinghe – Director General, DMC, and Mr. Firzan Hashim – Country Director, A-PAD SL.
During the discussion that followed, Mr. Wickramage and Maj. Gen. Ranasinghe expressed their sincere gratitude to A-PAD Bangladesh for the timely assistance and generosity in providing prioritized medicine for children.
The consignment of medicine was then handed over to Dr. Anver Hamdani (Director of Medical Technology services, MoH) for inventory and distribution among hospitals.
Headquartered in Japan, the Asia Pacific Alliance for Disaster Management (A-PAD) is aimed at coordinating and supporting disaster preparedness, mitigation, disaster risk reduction, capacity building and relief activities across the Asia Pacific region. A-PAD is a transnational organization with its management office located in Japan, while apart from Sri Lanka, the platform consists of 5 other member countries including Bangladesh, Indonesia, Philippines, South Korea, and Nepal.