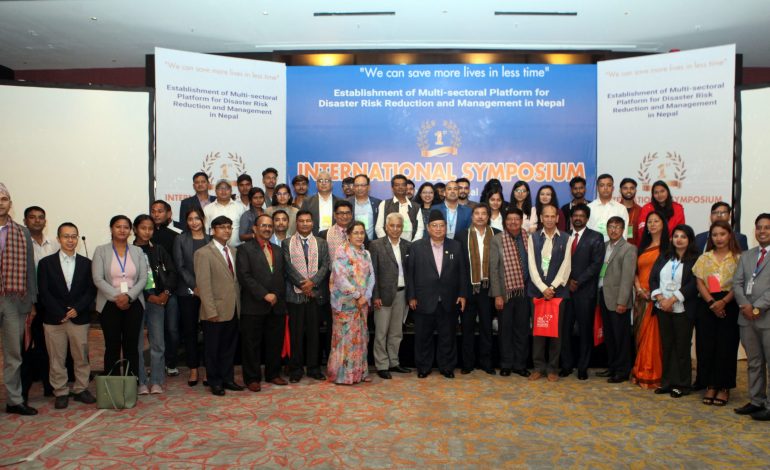 A-PAD in Nepal Hosts International Symposium 2022
The Asia-Pacific Alliance for Disaster Management (A-PAD) in Nepal held their Inaugural International Symposium on the 28th of June, 2022 in Kathmandu. The event was carried out in collaboration with the National Business Initiative (NBI) and the Youth Development Center (YDC), with its focus on the 'Establishment of a Multi-Sectoral Platform for Disaster Risk Reduction and Management in Nepal'.
The Symposium brought together representatives from Nepal's Government, Private sector and civil society, with disaster management experts, as well as representatives from A-PAD's International network, the UN and other INGOs, to highlight the fact that a platform, such as A-PAD, is essential to carrying out effective disaster risk reduction and management in Nepal. Speakers during the event noted that Nepal is one of the most disaster-prone countries in the world and current methods of disaster management are not up to standard. In this regard, the importance of cross-sectoral partnerships was highlighted as essential to disaster management initiatives.
Government representatives who spoke at the event included Hon. Bal Krishna Khand (Minister of Home Affairs) and Hon. Umesh Shrestha (State Minister, PM's Office) and Dr. Anil Pokhrel  (Chief Executive, National Disaster Risk Reduction & Management Authority). Further, Mr. Tamura Takahiro (Charge d'Affairs ad interim of Japan to Nepal, Embassy of Japan) also spoke on how lessons learned from Japanese disaster responses can be implemented in Nepal. Mr. Takahiro mentioned that A-PAD has successfully provided an effective platform for disaster responses in countries through partnerships.
Representing A-PAD's international network at the symposium were Dr. Quazi Quamruzzaman (Chairman, A-PAD International), Ms. Kaori Neki (Director, Head of Management Office, A-PAD) and Mr. Firzan Hashim (Head of Operations, A-PAD in Nepal and Country Director, A-PAD Sri Lanka). Ms. Neki and Mr. Hashim gave a joint presentation on activities carried out by A-PAD, including Search and Rescue trainings, while also describing the various resources that A-PAD has available, which are key to carrying out disaster responses.
Mr. Hashim also participated in a Panel Discussion along with Mr. Sunil Sun Shakya (DRR Expert), Dr. Man Bahadur Bishwakarma (Ex-Secretary, Govt. of Nepal), Dr. Dijan Bhattarai (Spokesperson, National Disaster Risk Reduction And Management Authority, Dr. Raju Thapa (Vice-Chairperson, DPNet) and Mr. Shekhar Golchha (President, Federation of Nepalese Chambers of Commerce and Industry). The discussion was moderated by Mr. Uttam Niraula (Executive Director, Soch Nepal/ CSO Activist).