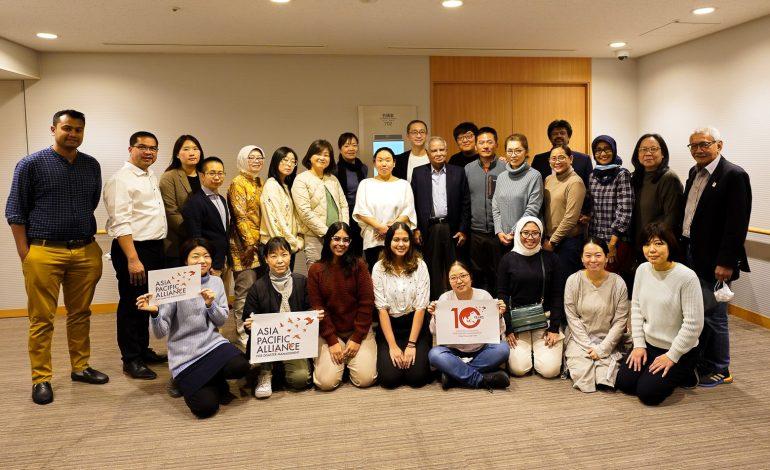 A-PAD Conducts Regional Workshop in Tokyo, Japan
Led by the Board of Directors of the Asia Pacific Alliance for Disaster Management, a two-day workshop was conducted in Tokyo, Japan bringing together disaster management practitioners, experts and representatives from A-PAD national platforms including that of Japan, Korea, Bangladesh, Philippines, Indonesia, Nepal and Sri Lanka to discuss and develop A-PAD's strategy for the upcoming decade.
The workshop commenced with a series of lectures conducted by A-PAD's senior management including that of Prof. Quazi Quaruzzaman, Chairman, Mr. Kensuke Onishi, CEO, Mr. Firzan Hashim, COO, Mr. Nobutaka Miyahara, Senior Advisor and Dr Mototaka Inaba, M.D. The session was facilitated by Mr. Masataka Uo, the Director – Strategic Planning, Networking and Development. The workshop covered a broad range of topics, including changes in regional security and the role beyond disasters, global trends in impact investment and the possibility of its application to Disaster Risk Reduction strategies, the importance of the ARROWS medical rescue model and reflecting upon A-PAD's emergency response operations. The discussions were designed to help participants develop a deep understanding of the organization structure as well as to identify new opportunities for the organization's growth and expansion.
Following the lectures, the participants were segregated into three groups and assigned specific thematic areas such as multi-sector collaboration, disaster education, fundraising, branding, communications, etc. The groups were tasked with developing strategies for the upcoming decade that would help national platforms achieve their goals. Over the course of the workshop, the participants engaged in energetic discussions, exchanged ideas and explored new approaches to solve problems. At the end of the workshop, each group presented their strategies to the board members and all participants following which a Q&A session took place where feedback and suggestions were provided. The workshop offered a platform for senior management and local staff members to develop actionable strategies for the next decade, network and enhance regional coordination within the country offices.
With the successful conclusion of the workshop, a staff excursion was organized to the Tokyo Rinkai Disaster Prevention Park allowing the participants an opportunity to learn about disaster prevention measures through an interactive and immersive experience. The training concluded providing all staff with a valuable experience and was a testament to the importance of strategic planning in achieving long-term sustainable growth.