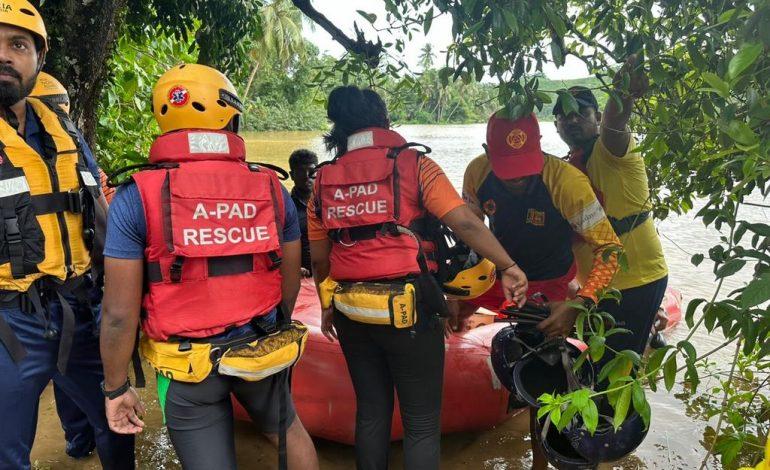 A-PAD SAR Team On Ground in Response to Matara Flood Crisis 2023
Torrential monsoon rains have triggered floods and landslides in many parts of Sri Lanka with the coastal district of Matara being the worst affected leaving thousands of families stranded due to the catastrophic floods. In response to the urgent need for assistance, the A-PAD Search and Rescue team swiftly deployed its members to the affected areas on the 07th of October 2023 to conduct field investigations and provide assistance to the flood-affected areas of Matara.
A-PAD SAR members from organizations representing the Capital Maharaja Group – News First, Lion Brewery (Ceylon) PLC, Sri Lanka Life Saving (SLLS) and A-PAD SL in partnership with Sarvodaya embarked on a mission to assess and provide immediate relief to families in need. The mission began with a planning meeting at one of the deployment points of SLLS – Sarvodaya Nilwala Wishwadarana Kendraya. During the meeting, the operational plan for the day was discussed and one of the most vulnerable villages was identified and selected for immediate assistance. The chosen village was severely affected by the floods, leaving the residents trapped without access to food and medication.
It was understood that the Matara District is currently experiencing a high flooding situation, with its severity exceeding the flooding witnessed in the previous year. Furthermore, local authorities noted that the Gal Bund poses a significant risk to the low-lying villages. Should the bund breach its limit, water would inundate the villages in its path.
Several challenges and issues were identified during the mission, including transportation and fuel shortages, the risk of waterborne diseases such as Rat Fever, the presence of crocodiles in the flooded areas as well as interruptions to day-to-day life for the residents with schools closed and businesses disrupted.
The A-PAD SAR team assisted in the distribution of ration packs to the Malimbada DS Division, both by road and boat. In addition, an investigation of the Thihagoda area, which consisted of 30 island villages, revealed that seven families were cut off by flood waters. The areas were inaccessible by road, and it was imperative to distribute food rations to these families.
A-PAD SL aims to continue work in close coordination with its partners to aid flood affected communities. The resilience and determination of these committed organizations demonstrated the power of collective action in the face of adversity. Their efforts not only provide essential aid but also serve as a beacon of hope in times of crisis.