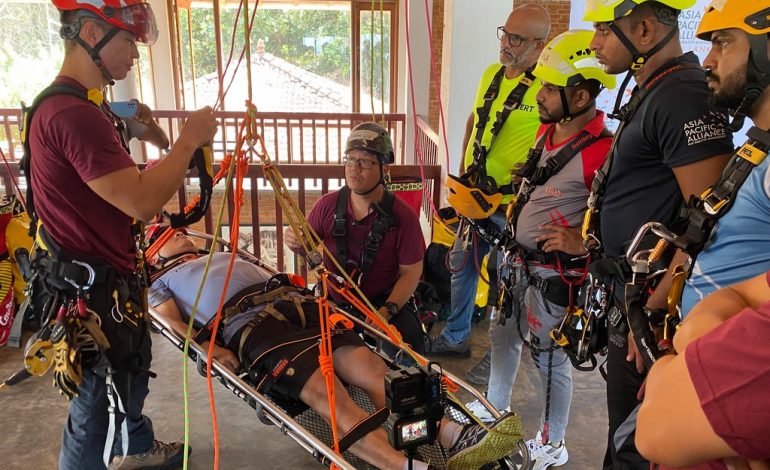 A-PAD Search and Rescue – Rope Rescue Technical Training 2022
As part of A-PAD Sri Lanka's Search and Rescue (SAR) initiative, a seven-day "Rope Rescue Technical Training" programme was carried out from the 8th of August, 2022. A-PAD SL was able to facilitate 7 professional rope rescue trainers from Japan and Taiwan to carry out the programme for 14 civilian participants from private sector organizations, Sri Lanka Lifesaving and Adventure sports representatives.
The intense training involved the participants learning the intricate technicalities of rope rescue operations. This included being educated on all different types of equipment and how to use them, the several different types of knot techniques to be used and when to use them, how to ascend and descend from a rope, as well as how to properly attend to a victim and carry out a rope rescue using a stretcher. In addition to gaining critical individual skills and knowledge, participants were also taught how to work effectively as a team in conducting rope rescues. The team also had to successfully perform a simulated rope rescue operation across a river. On the last day of training, each participant was tested on the skills gained during the course of the week. Upon passing their tests, the participants received an internationally recognized Rope Rescue Level 1 Certification. The final day was also graced by the Director General of the Disaster Management Center, Major General Sudantha Ranasinghe, who addressed the participants and stated his appreciation for A-PAD and the Trainers in conducting the training. He further stated that this training was very important as the knowledge gained from it can be extended toward developing the capacity of the Sri Lankan Army and other first responders to disasters.
A-PAD SL asserts that trainings of this nature are essential, as they ensure that proper rescue operations can be carried out, which will ensure the lives of both the victims and the rescuers. It is hoped that these training activities can be expanded further to reach out to a greater number of people in the future.