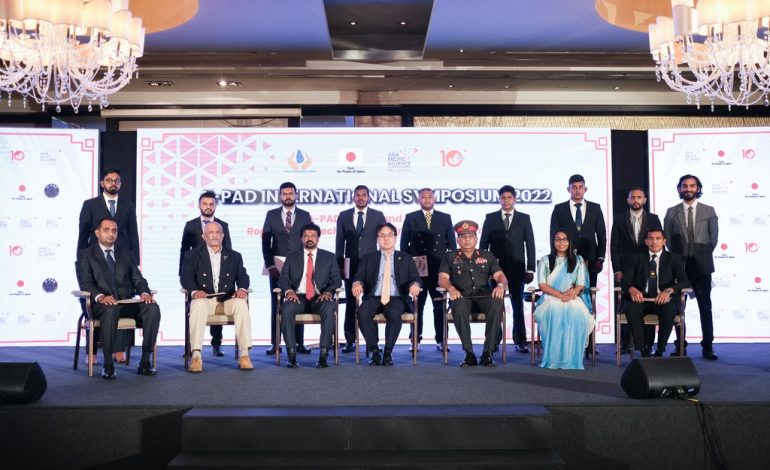 A-PAD SL Certifies its Search and Rescue Team in International Rope Rescue Technical Training
14 members from the A-PAD SL Search and Rescue Team, recently underwent an international training on Technical Rope Rescue – Level 01, under the guidance and expertise of trainers from Japan. The participants in the rigorous training studied the exact details of rope rescue operations. This included instruction on all available equipment and how to use it, as well as the various knotting procedures that should be utilized and when, how to ascend and descend from a rope, how to properly attend to a victim, and how to perform a rope rescue utilizing a stretcher. Participants learned how to work well as a team when performing rope rescues in addition to obtaining essential individual skills and information. The team comprises of private sector, volunteers, extreme sport teams and adventure enthusiasts who were trained and thereafter individually tested prior to qualifying for certification.
This 14 member team was awarded with an international certification and accreditation as well as local recognition by the state, at the A-PAD SL International Symposium, held on the 30th of August 2022. Certifications were handed over by His Excellency Mr. MIZUKOSHI Hideaki, The Ambassador of Japan to Sri Lanka, Major General Sudantha Ranasinghe, Director General, Disaster Management Centre (DMC) and Mr. Firzan Hashim, Country Director, A-PAD Sri Lanka with the presence of a diverse audience who were present at the event.
Since 2017, A-PAD has conducted international trainings of Level 01 & 02 in Swift Water Rescue to 72 personnel and the year 2022 saw the first ever time a dedicated international rope rescue training was carried out. The techniques and expertise obtained at the latter are well interconnected when engaging in any water borne disaster rescue missions as well.
We are thankful to Ministry of Foreign Affairs Japan, the People of Japan and the Embassy of Japan in Sri Lanka for extending their benevolent expertise and support in introducing the element of professional search and rescue to Sri Lanka. Our sincere gratitude to the A-PAD Management Office and the A-PAD International Search and Rescue Team/Trainers for their commitment in creating skilled teams and persons in Sri Lanka in accordance to international standards.
The highlights of the training program can be viewed at: https://www.youtube.com/watch?v=4kKW5O98aVM
Introducing Sri Lanka's first Rope Rescue Technical Team: