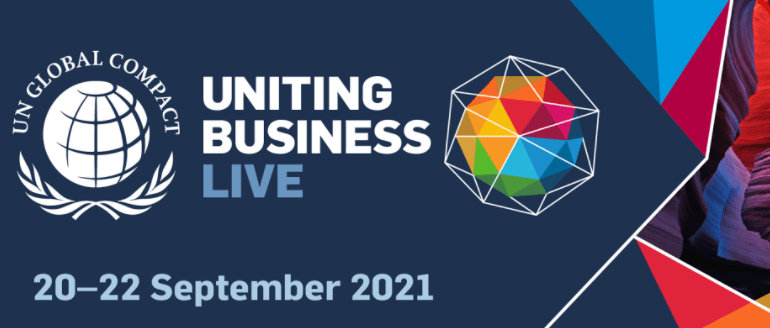 A-PAD SL Flagged at the Uniting Business Live Private Sector Forum – UN Global Compact
To mark the opening of the 76th session of the UN General Assembly, a special event "Uniting Business LIVE" from 20-22 September, virtually convened leaders from business, Government and civil society to showcase their commitment to the UN's mission. The series of events were organized by the UN Global Compact (UNGC), which is a global movement of sustainable companies and stakeholders and sees business as a force for good in achieving a better world.
In his remarks in the capacity as the Assistant Secretary-General for Humanitarian Affairs and Deputy Emergency Relief Coordinator in the United Nations Office for the Coordination of Humanitarian Affairs (OCHA), Mr. Ramesh Rajasingham, spoke at the Private Sector Forum providing a special briefing on "Private Sector Support for Humanitarian Relief".
In his statement, the Assistant Secretary-General stated that "the unprecedented scale of humanitarian needs calls for a unified approach in which the private sector works hand-in-hand with Governments, civil society, humanitarian organizations and people themselves to alleviate human suffering. He observed that in this context, "…Local businesses are often among the first responders in any emergency, providing not only funds, but also critical goods, services and expertise." Emphasizing the role of CBi, Mr. Rajasingham recalled that "It is for these reasons that OCHA and the United Nations Development Programme partnered to launch the Connecting Business initiative, or CBi, at the World Humanitarian Summit in 2016." "CBi strategically engages the private sector before, during and after emergencies, increasing the scale and effectiveness of the response and recovery in a coordinated manner," he added.
A-PAD's affiliation to CBi allowed the platform's work to be flagged by the Assistant Secretary General in his special briefing whereby, it was mentioned that "In Sri Lanka, the Asia-Pacific Alliance for Disaster Management Sri Lanka – another CBi Member Network – has mobilized the private sector to respond to recurring floods, droughts and landslides, helping hundreds of thousands of affected people".
A-PAD is grateful to CBi for the opportunity provided at the "Uniting Business Live | Private Sector Forum" and echoes the closing remarks of Mr. Ramesh Rajasingham, Assistant Secretary-General for Humanitarian Affairs and Deputy Emergency Relief Coordinator, UN OCHA, in that "When we work together, we can make sure we leave no one behind. When we work together, communities recover faster and more efficiently from disasters".
Access the full statement by the Assistant Secretary-General for Humanitarian Affairs and Deputy Emergency Relief Coordinator, UN OCHA via https://bit.ly/2VXMYdn