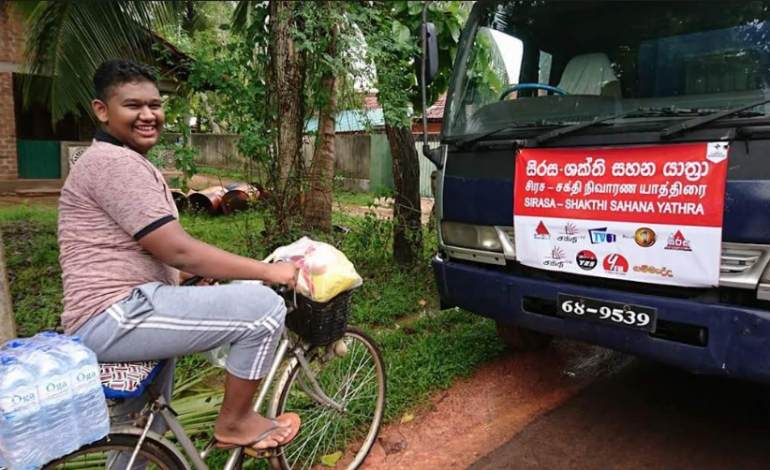 A-PAD SL joins hands with Sirasa-Shakthi Sahana Yathra
The Sirasa-Shakthi Sahana Yathra was launched on 21st May 2018 and the members of the general public set aside all  differences to  generously  contribute relief   items   for   the   families   affected by the inclement weather. Donations continued  till  the  dawn  of  24th  May 2018 and aid convoys left for Kegalle, Ratnapura and Nawalapitiya. APAD –SL partnered with Sirasa-Shakthi Sahana Yathra in coordinating the ground level needs with the available relief resources.
On the 24th May afternoon under difficult conditions, The Sirasa-Shakthi Sahana Yathra teams reached displacement camps in Dimiyawa, Nivithigala via boat to distribute aid. The Chief Inspector of the Ratnapura  Police  Headquarters  and  life savers of the Division assisted the Sahana Yathra team to distribute the relief items. The  people  of  Dimiyawa  were  grateful for the provisions to the public and to the  Sirasa-Shakthi  Sahana  Yathra  team, "It is your efforts that make the public contribute."
Relief items were also provided to more than 50 people living in low-lying areas in Bulathkohupitiya who have been displaced and living in temporary shelters for more than 2 years.