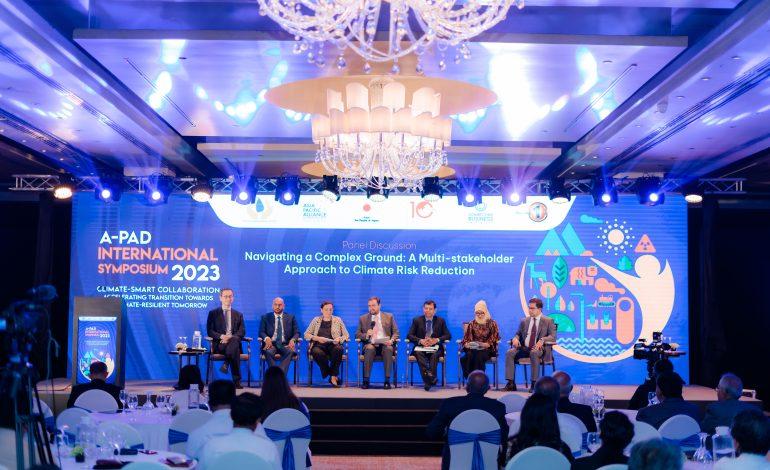 A-PAD Sri Lanka Convenes International Symposium to Drive Climate-Smart Collaboration for a Climate-Resilient Tomorrow
With the mission of fostering an optimistic, outcome-oriented platform, the annual international symposium of the Asia Pacific Alliance for Disaster Management Sri Lanka (A-PAD SL) was held on September 5, 2023, with the aim of powering an optimistic platform for discussion outlining smart solutions and placing emphasis on enhanced collaboration as a counterbalance to rising temperatures and climate change. The symposium for this year was themed "Climate-Smart Collaboration: Accelerating Transition towards a Climate-Resilient Tomorrow and was graced by H.E. MIZUKOSHI Hideaki, Ambassador of Japan to Sri Lanka, as Chief Guest and Ms. Chiyo Kanda, Country Manager for Maldives and Sri Lanka, the World Bank, as Guest of Honor and Major General (Rtd.) Sudantha Ranasinghe, Director General, Disaster Management Centre (DMC), as Special Guest.
The country director of A-PAD Sri Lanka, Mr. Firzan Hashim, delivered the opening remarks, where he emphasized the importance of accelerating climate-smart processes and promoting inclusive, unique, and accessible platforms. He also emphasized the need for military emission reduction targets in national climate strategies and corporate climate leadership. He also highlighted the need for resiliency funding and emphasized the importance of children and youth in transitioning towards a climate-resilient future.
The Chief Guest, Ambassador of Sri Lanka to Japan, H.E. Mizukoshi Hideaki, delivered the keynote speech, where he highlighted that Japan has been supporting A-PAD since its inception, implementing programs such as disaster relief and COVID-19 activities. The ambassador highlighted that the annual A-PAD International Symposium focuses on addressing climate change, biodiversity, environmental pollution, energy security, climate crises, and geopolitical risks in pursuit of the global goal of net zero emissions.
Chairman of A-PAD International, Prof. Dr. Quazi Quamruzzaman, addressed the gathering, highlighting the importance of collective efforts in addressing climate change. He emphasized the need for immediate action and the role of innovation in finding sustainable solutions.
Ms. Chiyo Kanda, Country Manager for the Maldives and Sri Lanka at the World Bank, as the Guest of Honor and as a panelist in the discussion, stated that the World Bank, as a leading financial institution, supports developing nations like Sri Lanka in addressing climate financing opportunities. The bank manages two financing sources: the clean technology fund and the strategic climate fund. Ms. Kanda emphasized the fact that to maximize efforts towards climate action, the bank mainstreams the climate agenda in the entire financing system and collaborates across different financing agencies.
The symposium featured two panel discussions, with the first focused on "Scaling up Climate-Smart Solutions: Moving from Innovation to Implementation," bridging the gap between theoretical concepts and practical applications through the adoption of climate-smart solutions and innovative practices. The first panel included Ms. Chiyo Kanda, Country Manager for Maldives and Sri Lanka, The World Bank; Major General (Rtd) Sudantha Ranasinghe, RWP, RSP, MSc, ndu, psc, Director General, Disaster Management Centre (DMC); Dr. Rohan Fernando, Executive Director, Aitken Spence PLC; Mr. Denver De Zylva, Global Head of Facilities and Sustainability; Senior Vice President, Virtusa Corporation; Director, Virtusa (Pvt) Ltd; Mr. Kensuke Onishi, Chief Executive Officer, A-PAD International | Japan; Dr. Nelum Vithana, Group Manager, Food Safety and Nutrition, Cargills (Ceylon) PLC.
The second panel, "Navigating a Complex Ground: A Multi-Stakeholder Approach to Climate Risk Reduction", was attuned to integrating the knowledge, resources, and expertise of diverse partners with a vision of creating a holistic and inclusive roadmap for climate risk reduction. The panelists included Dr. Ananda Mallawatantri, Advisor to the President of Sri Lanka on Environment, Climate Change, and Green Finance, Presidential Secretariat; Ms. Begona Arellano, Deputy Representative, UNICEF Sri Lanka; Mr. Chevaan Daniel, Group Director, Capital Maharaja Group; Mr. Masataka Uo, Director, Strategic Planning, Networking, and Development, A-PAD International | Japan; Ms. Sinta Kaniawati Director, Global Partnerships, A-PAD International | Indonesia, Mr. Gilbert Albero, President, A-PAD Philippines | Philippines.
The outcomes of these high-level discussions are to be advocated for and lobbied for with relevant stakeholders, including the government, private sector, and humanitarian agencies, and a report summary is to be made available to the public. Headquartered in Japan, A-PAD SL is aimed at coordinating and supporting disaster preparedness, mitigation, disaster risk reduction, capacity building, and relief activities across Sri Lanka. A-PAD Sri Lanka is grateful to the Embassy of Japan through the Overseas Development Assistance Program of the Ministry of Foreign Affairs, Japan, for the support provided in making this symposium a resounding success.