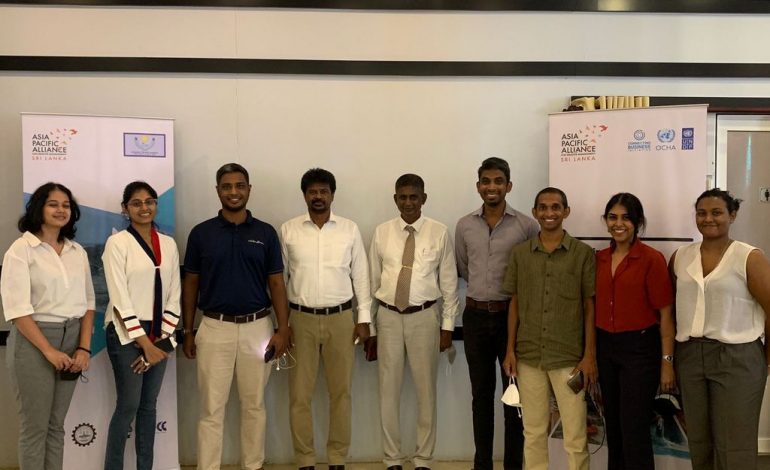 A-PAD-UNDP-CBi Facilitate Workshops on MSME Disaster Resilience in Sri Lanka's Tourism Sector
A-PAD Sri Lanka, UNDP Sri Lanka and Connecting Business Initiative (CBi), in partnership with the Ruhunu Tourist Bureau (RTB), facilitated training workshops for tourism-based Micro-Small & Medium Enterprises (MSMEs) in the Southern Province of Sri Lanka. Workshops were held in the Galle, Matara and Hambantota Districts on the 7th, 9th and 10th of February, 2022, respectively. Coordinating assistance was provided from the Galle District Chamber of Commerce, Matara District Chamber of Commerce and Hambantota District Chamber of Commerce. This was carried out as part of an overall initiative between the UNDP and A-PAD SL, which was titled 'Building Disaster Resilient MSMEs in the Tourism Sector of Sri Lanka'. The aim of this joint initiative was to address and create greater disaster resilience and business continuity among 200 MSMEs in the Southern Province. Ultimately, this was also a vital step in helping the country to further its progress in achieving the Sustainable Development Goals.

Through the workshops, the MSMEs were trained on various key aspects, such as developing a more sustainable business, value addition to existing production/service skills, building up a safer and eco-friendly business, and enhancing their disaster resilience. This was followed up by breakout sessions with the workshop participants. All participants then received a certificate after completion of the training workshops.

The success of this initiative was cemented by the facilitators from Aitken Spence, Aitken Spence Travels, Aitken Spence Hotels, Bank of Ceylon, Booking.com and Kantala Pvt Ltd, who shared their expertise with the participating MSMEs and were able to explore avenues for future collaboration. Their involvement was crucial in adding value in making the training an enriching, interactive and highly beneficial experience for all the attendees. It was clear that the MSMEs garnered a new-found sense of confidence and determination in continuing their businesses, as one participant at the workshop, Ms. Somalatha, stated "I was planning on stopping my business indefinitely, but after this workshop, I plan to continue and move forward". Similarly, one of the partner organization representatives, Mr. Heman Dharmapriya, Managing Director of the Ruhunu Tourist Bureau, said this was "a very useful workshop for small and medium scale tourism sector stakeholders" and that it was "brilliant in creating awareness about new innovations, changing attitudes, network building and finding of new markets".

Sri Lanka's Tourism sector is constituted of a multitude of various actors and organizations working at different levels, from large-scale businesses to grassroots-level MSMEs, who are all reliant on each other in one way or another. Thus, strengthening the resilience of the MSMEs would ultimately lead to the development of a more resilient tourism sector as well.