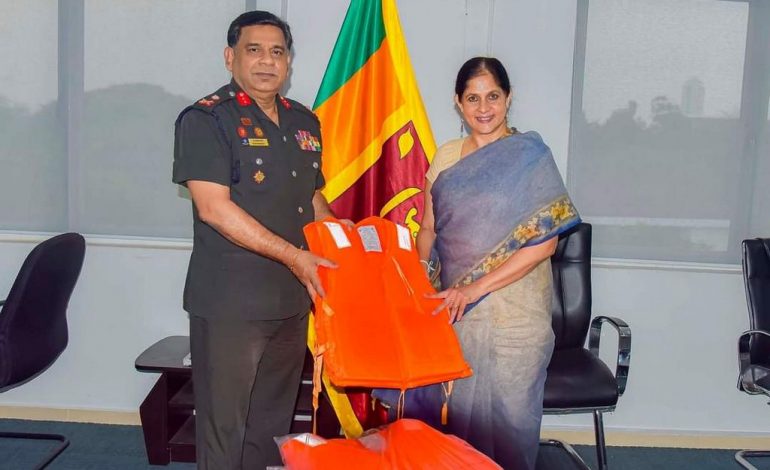 DMC Successfully Provides 100 Life Jackets to Kinniya with Coordination from A-PAD SL
The Kinniya Ferry Tragedy occurred on the 23rd of November, 2021, when a ferry transporting around 30 people capsized in the Eastern Provincial district of Kinniya. The incident claimed the lives of 7 individuals, including 4 children.

In order to prevent similar disasters in the future, the Hon. Governor of the Eastern Province, Ms. Anuradha Yahampath reached out to the Asia-Pacific Alliance for Disaster Management Sri Lanka (A-PAD SL) for support. A-PAD SL acted accordingly by initiating cooperative action between the Governor of the Eastern Province and Major General Sudantha Ranasinghe, Director General of the Disaster Management Centre (DMC). The meeting took place on the 25th of February, 2022, at the Disaster Management Centre in Colombo. During the meeting, a thorough discussion on how to implement proper safety guidelines and minimizing the risks of ferry accidents was carried out, as it is a frequently used mode of transportation in the Eastern Province. Once the meeting was concluded, the DMC provided the Governor of the Eastern Province with a supply of 100 lifejackets. These are to be used to ensure the safety and wellbeing for the people in the Kinniya area.

A-PAD SL is honoured to have had the opportunity to once again facilitate such partnerships with regard to disaster relief and resilience for the benefit of vulnerable communities around Sri Lanka.

A-PAD SL takes this opportunity to sincerely thank the Disaster Management Centre for their prompt response in providing the life jackets upon our request.