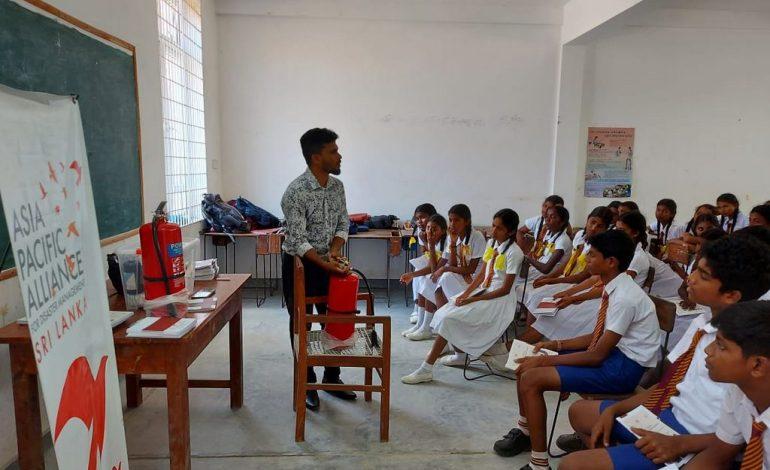 Achieving Disaster Management: An Educational Strategy
A PREPARED SCHOOL; IS A SAFE SCHOOL
Safe Schools: A globally renowned disaster risk reduction and management initiative adopted by A-PAD Sri Lanka equips the Sri Lankan school system with the necessary knowledge and skills for disaster preparedness, disaster risk reduction, and disaster mitigation. The initiative serves as a stepping stone towards advancing child rights by creating a safe and resilient school environment for inclusive and equitable quality education.
A-PAD SL accomplished an extensive array of safe school training for students at St. James Girl's School, J/Navanthurai R.C.T.M.S., J/Columbuthurai Hindu M.V., and J/Pasayoor St. Antony's Girls' Vidyalayam in the Jaffna District in consideration of the aforementioned. These courses were designed expressly to address the frequent calamities in Sri Lanka. Upon the conclusion of the training program, each school received essential safety equipment, including fire extinguishers and first aid boxes, thus fortifying their preparedness and safety measures.
What is a Safe School?
The Global Alliance for Disaster Risk Reduction and Resilience in the Education Sector defines a "safe school" as combining the following three components:
• Safe Learning Facilities (disaster-resilient infrastructure)
• School Disaster Management
• Disaster Risk Reduction and Resilience Education
Building a resilient society is primarily predicated on education. When a society lacks the ability to respond to natural calamities, the risk escalates into a disaster. In order to address the risk, the education sector has a crucial role to play. A-PAD SL aspires to continue this successful initiative with a long-term, sustainable strategy to educate children on disaster risk reduction and resilience in line with each child's legal right to a secure learning environment.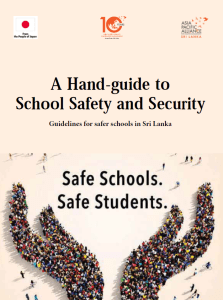 Can be accessed via – https://apad.lk/publications/