Safe and Sound: Your Essential Earthquake Preparedness Guide
Despite not being traditionally known as an earthquake-prone area, Sri Lanka has unexpectedly experienced a rise in seismic activity. Over the past few years, a series of minor tremors have been reported, totaling 16 incidents in 2020 and 18 occurrences in 2021. However, the number of recorded minor tremors decreased to five in 2022. As of the current year, 2023, nine minor tremors have been reported thus far. As it was mentioned by the Geological and Mine Bureau of Sri Lanka, currently, the likelihood of tremors significantly affecting buildings is minimal since the majority of recorded tremors register below magnitude 3 on the Richter scale. However, this unusual surge in tremor occurrences has raised concerns and attracted attention within both the expert community and the local population.
In this light, A-PAD SL partnered with the Disaster Management Center and successfully produced an extensive guide for proactive community earthquake preparedness with the technological assistance of the Geological Survey and Mines Bureau.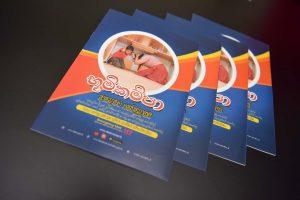 Earthquake disasters strike abruptly and without any forewarning, presenting limited opportunities for response and preparation. Therefore, acquiring a profound comprehension of the measures to undertake before, during, and after an earthquake becomes imperative in minimizing the potential harm to lives and property. Through diligent education and the implementation of suitable measures, we can effectively alleviate the impact of these disastrous occurrences.
During the official handing over session, representatives from A-PAD engaged in a fruitful discussion with the Director General of the Disaster Management Centre (DMC). The Director General of the DMC shared details of the comprehensive strategies put in place to ensure the widespread dissemination of the publication. Additionally, the DMC outlined their plans to conduct targeted training sessions, specifically designed to educate and empower residents of disaster-prone regions. This collaborative approach demonstrated a shared commitment to empowering communities and ensuring that vital earthquake preparedness resources reach those who need them the most.
A-PAD SL would like to extend its heartfelt gratitude to the people of Japan and the Office of Development Assistance (ODA) – Embassy of Japan in Sri Lanka for their invaluable support in successfully executing this initiative.