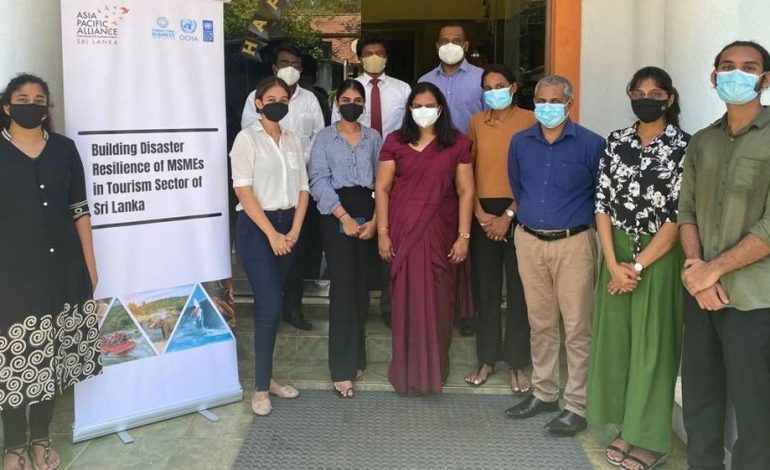 A-PAD with UNDP and CBi Enhances Business Diversification Opportunities for MSMEs
On the 30th and 31st of March, 2022, A-PAD Sri Lanka successfully carried out Business Diversification Handovers to over 120 MSMEs in the Galle, Matara and Hambantota Districts. This was done with coordinating assistance from the Ruhunu Tourism Bureau (RTB), the National Crafts Council (NCC) and the Galle, Matara and Hambantota District Chambers of Commerce.

The items presented were carefully curated to fit the specific requirements of the MSMEs in order to effectively enhance and add value to their businesses. In attendance during the handovers in Hambantota was Ms. Sureka Perera, Programme Quality and Design Analyst, Climate and Environment Team, UNDP. Commending the handover process and the initiative as a whole, Ms. Perera stated that this was a relevant and timely Project, given the current situation in the country, as it provided people in need with supplies that were necessary for the development of their businesses. She explained that the experiences gained from this Project will allow UNDP Sri Lanka to shift more of their focus toward the tourism sector and disaster management.

The Handovers were the last phase of a larger tripartite initiative between UNDP Sri Lanka, the Connecting Business Initiative (CBi) and A-PAD SL, titled "Building Disaster Resilience of MSMEs in the Tourism Sector of Southern Sri Lanka". The overall objective of this joint initiative was to address and create greater disaster resilience and business continuity among 200 MSMEs in the Southern Province. Ultimately, this was also a vital step in helping the Sri Lanka further its progress in achieving the Sustainable Development Goals.