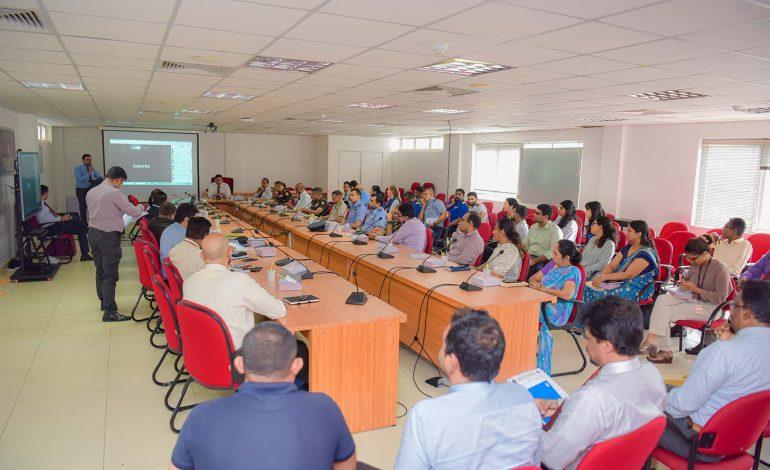 Stakeholder Meeting: Preparation for the 2nd Inter-Monsoon and Upcoming North-East Monsoon Season 2023/24
The Disaster Management Center convened a stakeholder meeting on 1st November 2023, addressing the critical transitional period between the 2nd Inter-Monsoon and the upcoming North-East Monsoon Season 2023-2024. It requires meticulous planning, effective communication, and collaborative efforts from various stakeholders to ensure the country is well-prepared to manage potential disasters and safeguard its citizens.
The meeting brought together key government departments, local government authorities, humanitarian sector and donors. Private sector was represented by A-PAD Sri Lanka along with a few corporate representatives. The involvement of these private sectors is a testament to the growing importance of public-private collaboration and coordination in disaster management. These organizations play a vital role in providing resources, expertise, and support during and after disasters.
Representatives from government departments provided valuable insights and outlined their preparation plans for the upcoming monsoon seasons. The Meteorological Department provided weather forecasts for the 2nd Inter-Monsoon and North-East Monsoon Season, assisting communities in preparing for potential disasters due to flooding. The Irrigation Department shared the presently available plans to monitor water levels for flood water management during monsoon seasons, while the National Building Research Organization (NBRO) provided information on potential landslide areas. The Ministry of Health presented strategies for handling health-related emergencies, including ensuring access to healthcare facilities and medical supplies in disaster-affected areas.
The stakeholder meeting highlighted the collective efforts of government departments, humanitarian sector and private sector organizations in preparing for the 2nd Inter-Monsoon and the upcoming North-East Monsoon Season 2023/24. The event emphasized the importance of collaboration, timely information sharing, and effective disaster preparedness to protect lives and property in the face of unpredictable weather conditions.
Read More: Preparedness for Response: North-East Monsoon Season