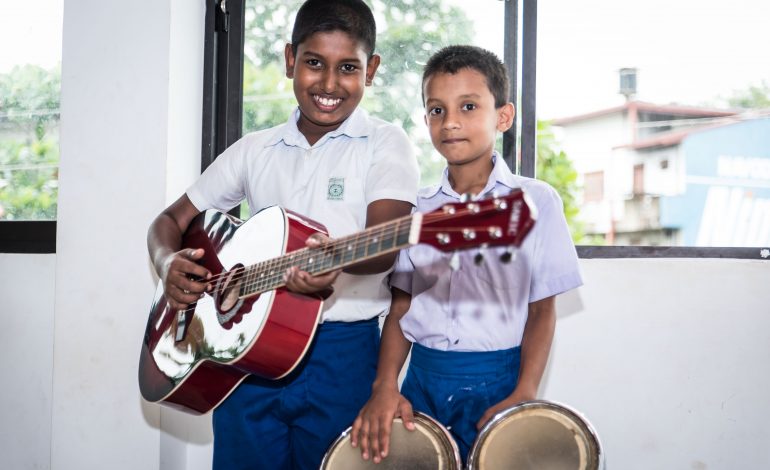 A-PAD, HSBC "Reviving Education" Educational Kits Distribution for School Children
A-PAD Sri Lanka recently distributed educational kits to school children in the Ratnapura and Matara Districts who were affected by the floods that ravaged several parts of the country in May this year. In addition to the students' educational kits which included essentials such as school bags, exercise books, stationery and shoes, other school requirements necessary for extra-curricular activities such as sports equipment and Home Science kits were also provided to selected schools which were in dire need of these. A school library was also equipped with book shelves and stock of books.
On the 26th and 28th of July 2017, the distribution took place in Halkandaliya Vidyalaya, Yakdehiwatta Vidyalaya and Nivi Karawita Primary School in Nivitigala (Ratnapura District), and on the 1st of August 2017, the distribution took place in four schools namely, Maramba Maha Vidyalaya and Maliduwa Kanishta Vidyalaya in Akuressa and Kalubowitana Maha Vidyalaya and Dehigaspa Dudley Senanayake Vidyalaya in Pitabaddera, all four of which are in the Matara District.
Senior officials of Hong Kong and Shanghai Bank Corporation (HSBC) who sponsored these flood relief activities were present at the distribution events along with representatives of the Disaster Management Centre (DMC) and staff of APAD-SL.
Matara and Ratnapura were two of the Districts that were severely affected by the floods which ravaged many parts of the country and left thousands displaced while leaving a trail of destruction behind it. Hundreds of homes, schools, shops and other buildings were partially or fully damaged. Crops were destroyed and farm animals had been swept away. Livelihoods were lost and children's education disrupted.
It was in an extremely critical situation as this that APAD-SL placed a special focus on helping school-going children to resume their studies, and initiated a close collaboration with HSBC whose partnership and solidarity made the relief assistance given to schools and school children in the Ratnapura and Matara Districts a reality.