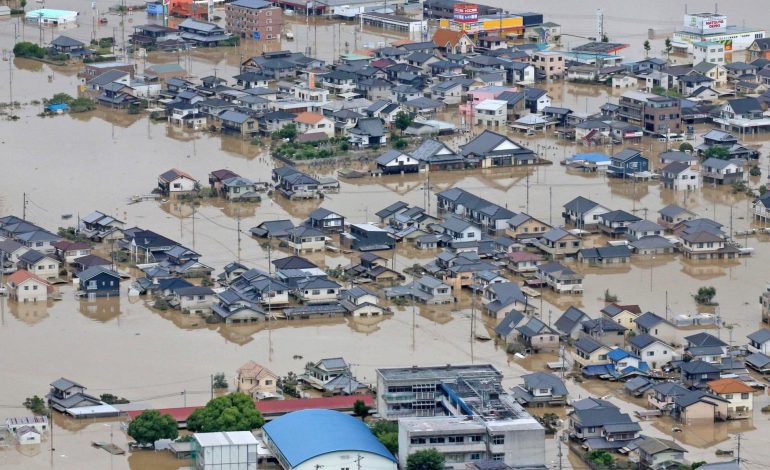 A-PAD in response as Super Typhoon "Maria" creates havoc across South-Western Japan
Heavy rainfall brought about by the onset of typhoon Maria on July 3rd 2018 has now escalated to torrential downpours across the southwestern region of Japan unleashing widespread floods and landslides that have left 190 dead, 70 missing, up to 8 million evacuated from their homes and extensive damage to houses, buildings, roads and surrounding bridges as of 10th July 2018. The flooding has affected more than 50 villages with up to 583 mm of rain falling between Friday and Saturday morning and the numbers of those affected and deceased are continuing to rise as the hours pass.
To date, A-PAD Japan has committed to providing efficient and effective response to the disaster affected areas and "saving more lives in less time." The immediate response that has occurred thus far:
The Search and Rescue team comprising of A-PAD Japan/Civic Force/Peace Winds Japan including a medical doctor used a helicopter and boats searching for isolated people awaiting rescue in Mabichi, Kurashiki City.
An A-PAD team in partnership with Japan's Self Defense Forces in inflatable rescue boats rescued 35 patients and staff members who were unable to flee from Mabi Memorial Hospital
Air-rescue operation conducted in collaboration with Humanitarian Medical Assistance (HuMa) to transport a critically ill patient to Okayama University Hospital
Staff at A-PAD Japan/CF are conducting need assessments at the four municipal shelters where there are more than 3,500 people evacuated from Mabicho, Kurashiki City and are aiming to deliver essential items needed and emergency supplies such as stocks, underwear, diapers, tooth brushes and hygiene items to the evacuees as soon as possible
On July 9, the joint emergency relief teams (A-PAD Japan / Civic Force / PWJ) delivered and distributed the essential items such as water, sport-drinks, underwear, cooling sheets and cleaning tools to the municipal shelters in Mabicho Kurashiki City, Okayama Prefecture and Mihara City, Hiroshima Prefecture – the two most affected areas.
The relief efforts are in collaboration among the members of the Social Emergency Management Alliance (SEMA) which includes more than 17 companies such as Yahoo Japan, Gunze and Johnson and Johnson Japan and three NGOs including CF and A-PAD Japan amongst its membership.
More than 160 people have been evacuated at the Funaki Fureai Center in Hongocho, Mihara City, which was at one time completely inundated.
Items such as electric fans, dehumidifiers, shirts, socks, underwear, sanitation goods and emergency toilets have arrived in Mabichi from the A-PAD Japan office and are awaiting distribution at the municipal shelters there.
A-PAD Japan team continued to mobilize all resources to accommodate the needs of the evacuees and will continue to assist the medical and health team to prevent the spread of disease and to take measures against heatstroke.
On 10th July, Ms. Kaori Neki (COO, A-PAD) was featured in a telephone interview which aired on the Japanese National TV NHK's most popular morning program called "Asaichi." Ms. Neki has been the focal person communicating with the joint teams on the ground, SEAM members and media and recommended a 3 point basic checklist for people who want to help the affected people and to volunteer to go to the affected areas:
To understand that the needs of evacuees and affected people remaining in their homes can change over time.
To confirm that there are needs for volunteers and a coordination system for allocation of volunteers.
To understand that more manpower than goods or items will be needed at the flooded areas.
As the rains have subsided, the grim picture of the true extent of the damage that the floods and landslides have caused is becoming clearer. The torrential rains have caused irreparable damage to homes and buildings, rescuers are still clearing debris and rubble in search of the almost 70 people that are said to be missing. Currently more than 5000 people are in evacuation centers in Okayama prefecture alone.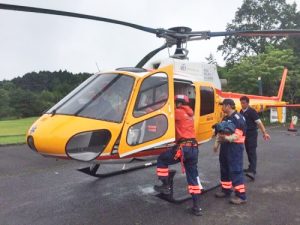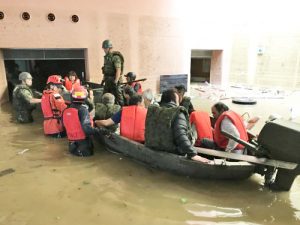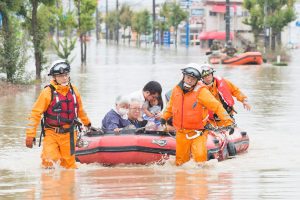 '