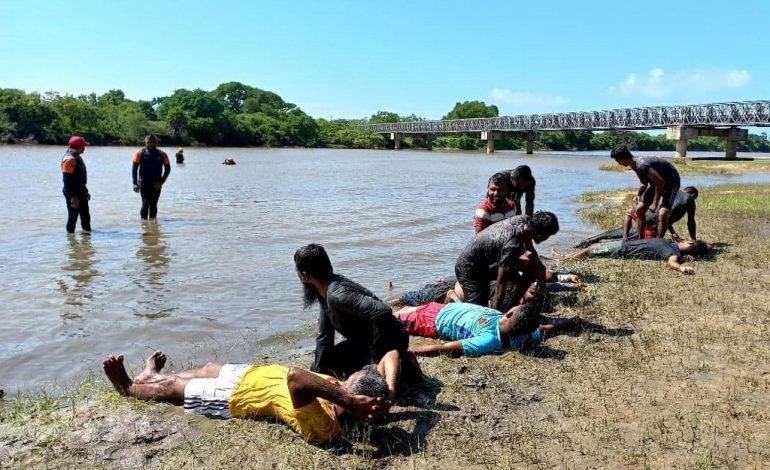 A-PAD Joins World Vision in Enhancing Basic Water Safety and First Responder Skills of Grassroots
At the invitation of World Vision Lanka and the Disaster Management Centre (DMC), A-PAD SL conducted a training program for the Village Disaster Management Committee (VDMC) members belonging to the Nanattan and Oddusudan divisions of Mannar and Mullaitivu Districts respectively. The sessions were based on introducing a unique skill set and a positive point of view to basic water safety and what it means to be community first responder. The increasing ratio of drowning related fatalities as well as flood water accidents have seen a sudden hike in Sri Lanka, especially along the larger river-lines and therefore, a community-based approach was designed in providing awareness and capacity to the selected participants.
The target group of 50 persons were identified by the District Disaster Management Centre Unit (DDMCU) in close coordination with World Vision Lanka and the technical expertise was provided by the Level 2 certified search and rescue trainers of A-PAD SL. The training was carried out along Malwathu Oya, the second longest river in Sri Lanka, under extreme safety nets and security.
A diverse set of individuals came together, with the common goal of ensuring personal safety while also having the capacity to help another during an emergency. A significant factor of this training was the brave participation of six female members who trained in parallel with the males and we hope to inspire and encourage more female representation, moving forward.
The prime objective of the training revolved around waters and therefore the participants were given the opportunity to be trained hands-on by the trainer team under safe supervision and furthermore, a value added classroom session was conducted in capacitating these teams to develop community based disaster preparedness and emergency plans. The interactive sessions paved way for innovation, interaction and spirited team work.
At the end of the 3-day program, the participants were recognized at provincial level and were awarded with certificates by Ms. A. Stanley De Mel, District Secretary, Mannar, who graced the ceremony in the presence of other governmental and non-governmental officials.