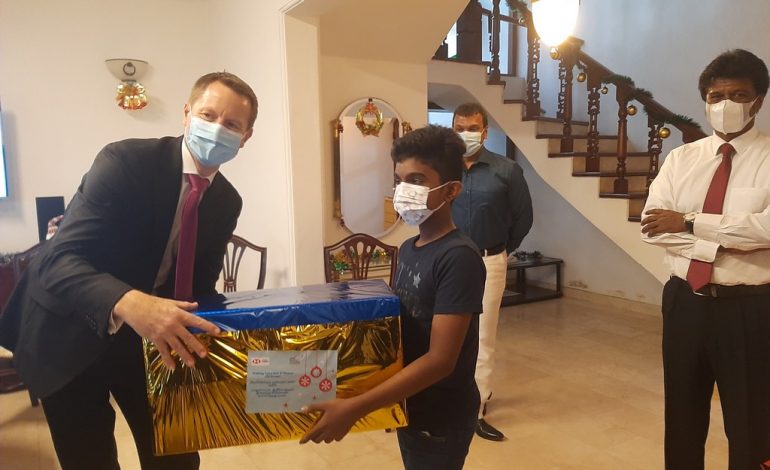 HSBC CEO Spends a Blessed Christmas at A-PAD with the Project Phoenix Family
Following the tragic Easter Sunday Attacks of 2019, HSBC Bank in Sri Lanka took upon itself to lend a helping hand and heart to those affected by the tragedy. The timely intervention of HSBC encouraged the involvement of Sarvodaya Shramadana Movement and A-PAD Sri Lanka to step on board, and the collaborated initiative became to be known as Project Phoenix. This project is now in its 3rd and final year and was designed to rebuild and rehabilitate families and children to bounce back to new normalcy following the trauma experienced. Throughout the course of the tri-partite initiative since June 2019, the organizations have consistently engaged and asked after the wellbeing of the families and children and have maintained a warm relationship with all those involved.
Apart from the regular monthly support provided – including medical assistance, reviving & continuing education, household assistance, optical and hearing aid assistance, disable friendly hygiene facilities, livelihood support, scholarships and school awareness programs, life education and skill development for post a/l students – a Christmas program was organized annually, and Christmas gifts were distributed to the children with the participation of the project partners. 
 In 2021, the COVID-19 outbreak restricted the possibility of large gatherings, and therefore Christmas gifts were distributed through door-to-door visits in the affected districts of Colombo, Negombo and Batticaloa. However, On 10th December 2021, a limited number of children and their parents attended the Christmas program at A-PAD Office, Colombo 07, and had the honour of meeting HSBC's newly appointed CEO – Mr. Mark Surgenor. Speaking at the program, Mr. Surgenor stated, "It is inspiring to see such positive and passionate young faces, in spite of the horrors of the tragedy experienced on Easter Sunday in 2019. HSBC Bank encourages you to keep pursuing your dreams and we are proud to be featured in your journey of recovery and success".
The program was coloured by the children decorating the Christmas tree and enlightening the new CEO on their warm relationship with HSBC, A-PAD, and Sarvodaya since 2019. The evening drew to a close with Mr. Mark Surgenor handing over Christmas gifts to Shanon, Stefin, Shravya, Sheshaini, Shalomi, Hariharan, Punida, Ryan, Sanduni, Sithmi, Santhosh and Ribonsia. Ms. Dilini Fernando, Corporate Sustainability Manager, HSBC Sri Lanka, Mr. Chamindha Rajakaruna, Executive Director, Sarvodaya Shramadana Movement and Mr. Firzan Hashim, Country Director, A-PAD Sri Lanka.