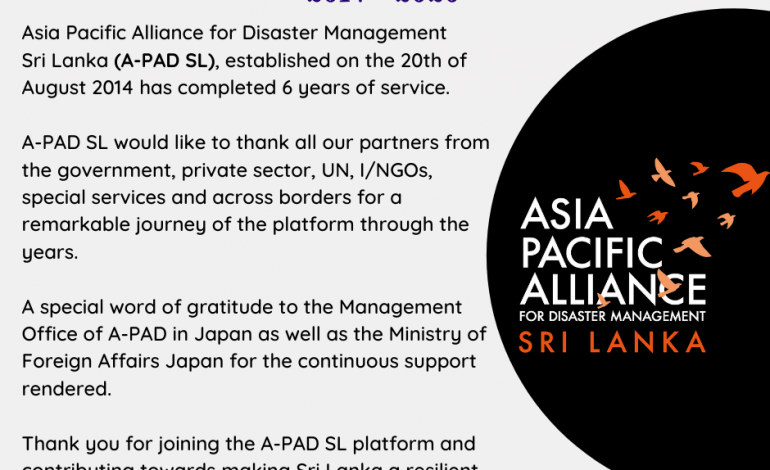 A-PAD Sri Lanka Achieves 6 Years of Service in Sri Lanka
Asia Pacific Alliance for Disaster Management Sri Lanka was established on the 20th of August 2014 under the patronage of both local and international signatories, in the aim of creating a platform for multi-stakeholder partnerships, specifically, Public-Private-Partnership (PPP). A brainchild of Asia Pacific Alliance for Disaster Management (A-PAD), the patent body in Japan, the organization is one of six platforms in the Asia Pacific Region.
In ordinance, the platform joined hands with the statutory bodies focusing on disaster management, in converging and harnessing local resources. Through its journey the platform has promoted business and community resilience, while advocating with the state in institutionalizing Disaster Risk Reduction among a larger cross section in Sri Lanka.
Further, the networking and facilitating capacity of the platform has enabled international knowledge sharing, inter-national expert exchanges as well as present Sri Lanka at global platforms, showcasing the local and authentic success stories achieved in this island nation.
While thanking all partnerships forged during the past 6 years, the platform looks forward to establish and enhance more partnerships in achieving our goal of making Sri Lanka a sustainable and resilient nation!