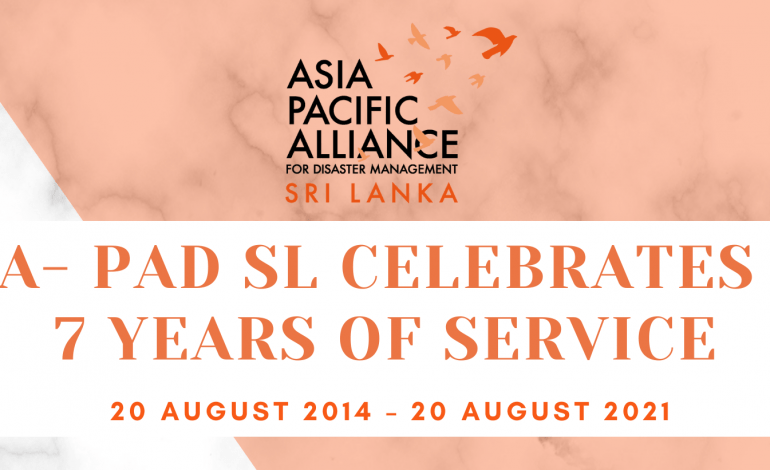 A-PAD Sri Lanka Marks 7 Years of Service in Sri Lanka – 20 August 2021
Asia Pacific Alliance for Disaster Management Sri Lanka was established on the 20th of August 2014 under the patronage of both local and international signatories, with the aim of creating a platform for multi-stakeholder partnerships, specifically, Public-Private-Partnership (PPP). A brainchild of Asia Pacific Alliance for Disaster Management (A-PAD), the patent body in Japan, the organization is one of six platforms in the Asia Pacific Region.
A-PAD SL coordinates and supports disaster preparedness, mitigation, disaster risk reduction, capacity building and relief activities across Sri Lanka. The platform considers advocacy as an important tool in raising awareness and together with the public and private sectors, voices the necessity to institutionalize disaster risk reduction (DRR) among the larger cross section of Sri Lanka.
Through its journey, A-PAD has promoted business and community resilience, and in collaboration with private sector partners, it considers resource mobilization to be vital ahead of emergencies. In addition, the platform continues to encourage and uplift SMEs against the new normal of pandemic lead intersecting disasters, while gender sensitivity is a driving force moving forward. Notably, since its inception, A-PAD has responded to many crises, including flooding, drought, landslides, urban fires, disease outbreaks and violence.
The platform's strong regional and global partnerships and networking abilities has enabled international knowledge sharing across borders, while it has received many an opportunity to represent Sri Lanka at global forums, showcasing local and authentic success stories in disaster management.
While thanking all partnerships forged during the past 7 years, the platform looks forward to establish and enhance more alliances in achieving the united goal of making Sri Lanka a sustainable and resilient nation!