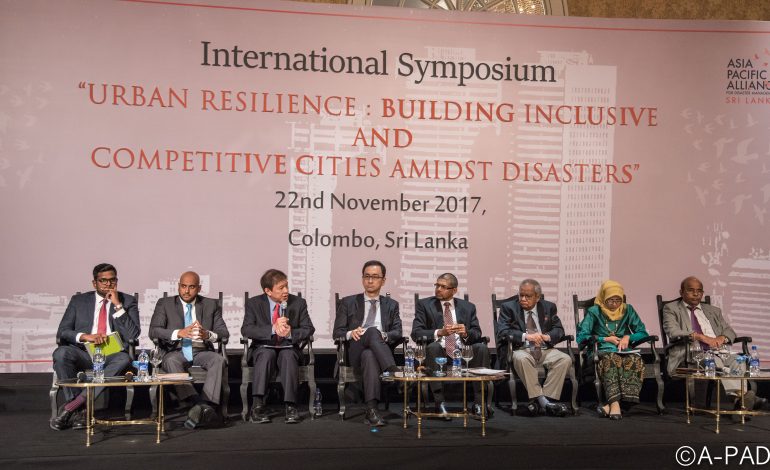 ANNUAL INTERNATIONAL SYMPOSIUM OF A-PAD SL
"Urban Resilience: Building Inclusive and Competitive Cities Amidst Disasters" – 4th International Symposium of A-PAD SL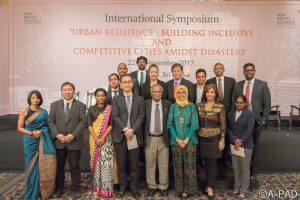 Asia Pacific Alliance for Disaster Management, Sri Lanka (A-PAD SL) hosted its Annual International Symposium on 22nd November 2017. This year's theme was "Urban Resilience: Building Inclusive and Competitive Cities amidst Disasters". The event was graced by Hon. Anura Priyadarshana Yapa – Minister of Disaster Management; H.E. Kenichi Suganuma – Ambassador of Japan to Sri Lanka; Dr. Harsha De Silva – Deputy Minister, Ministry of National Policies and Economic Affairs, Air Marshal Kapila Jayamapthy – Commander of Sri Lanka Air Force, Mr Ken Onishi – CEO A-PAD International Japan and S/DIG M R Latiff – Commandant Special Task Force. In attendance were representatives from the government, private sector, I/NGOs, A-PAD member countries, and the Tri-Forces of Sri Lanka.
Currently more than half the world's population lives in cities and this is expected to reach 80% by 2050. The aim of the symposium was to encourage and exchange different ideas on how cities, which are increasingly becoming hazardous due to rapid expansion, can combat the impact of natural and man-made disasters by implementing sustainable prevention, mitigation, management and preparation schemes.
The Symposium segmented into two sessions, involved addresses by Chief Guests and Keynote Speakers and experts that discussed the state of disaster management in Sri Lanka and it's growing urbanization. Whilst the 2004 tsunami had a widespread affect across the island, the country continues to be affected by issues such as landslides, mudslides and flooding. Hon. Anura Priyadarshana Yapa, Dr. Harsha De Silva and Mr. Firzan Hashim, Country Director, A-PAD Sri Lanka, commented on the budget changes for 2018 which place sustainable policies in reducing the impact of disasters at the forefront of national policy.
Several recommendations were made by the speakers and panelists, in strengthening business resilience to withstand disaster impacts, capacity building and advocacy amongst civil society, engaging and collaboration with multi-stakeholders to create new solutions, and further emphasized the need to provide insight into policy making for the Government to take forward in national frameworks. The partnerships among stake holders of the government, private sector, military, UN/NGOs and other civil society actors was emphasized and reiterated in achieving sustainable development goals.
Media & Links
"Commander attends Symposium on 'Urban Resilience: Building Inclusive and Competitive Cities amidst Disasters"
http://www.airforce.lk/news.php?news=3386
"Experts scrutinize Lanka's disaster preparedness" http://www.sundaytimes.lk/171126/sunday-times-2/experts-scrutinise-lankas-disaster-preparedness-269992.html
"Harsha apologies for illegal Colombo constructions" 
http://www.sundaytimes.lk/article/1035466/harsha-apologises-for-illegal-colombo-constructions
"Sri Lanka to tackle corruption in disaster mitigation efforts"
http://www.economynext.com/Sri_Lanka_to_tackle_corruption_in_disaster_mitigation_efforts-3-9239.html