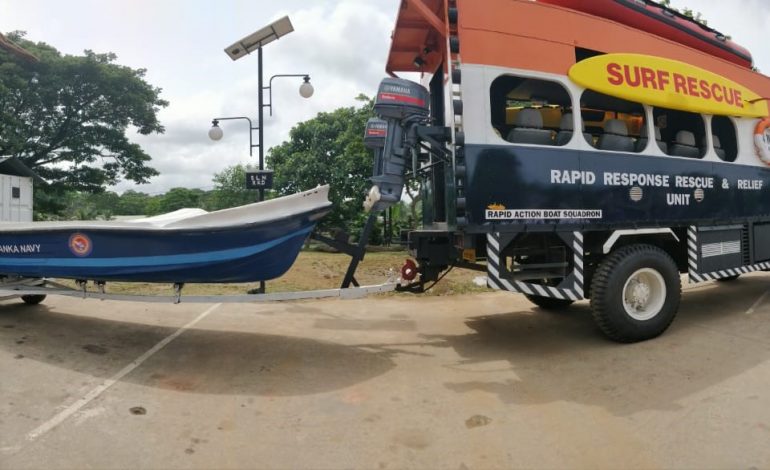 Enhancing Capacity of Disaster Response Unit of Sri Lanka Navy
On the invitation of Rear Admiral Piyal De Silva, the Chief of Staff of Sri Lanka Navy (SLN), A-PAD visited the newly established Disaster Response Unit in Welisara – the first ever initiative in Sri Lanka for quick response to disasters caused by natural hazards. The facility is equipped with dinghies, boats, outboard motors; essential search and rescue equipment; and most importantly four state of the art mobile kitchens in providing cooked meals to community in distress at displaced locations. The capacity of SLN was evident in the recent responses to flood where they were in the forefront to rescue and recovery with a professional approach in responding to disasters and dealing with affected civilians. The readiness has certainly saved lives of many civilians. Sri Lanka Navy's parallel approach in having established the Rapid Response, Rescue and Relief (4RS) unit to respond to floods, landslides and other natural disasters have been timely. The 4RS training facility trains Navy personnel to be proficient in civil search, rescue and relief operations. The recurrent disasters over the years required specialized rescue and relief capacity in-country.
A-PAD having visited both the Disaster Response Unit in Welisara and 4RS Training School in Gangewadiya, Puttalam seeks to enhance capacity of resources of these two units in saving lives during disasters through private sector intervention. Knowledge exchange with Sri Lanka Navy by A-PAD International search and rescue trainers, enhancing the inventory of Disaster Response Unit through private sector partnership and forging better Civil-Military cooperation in saving lives in disasters is the aim of A-PAD.