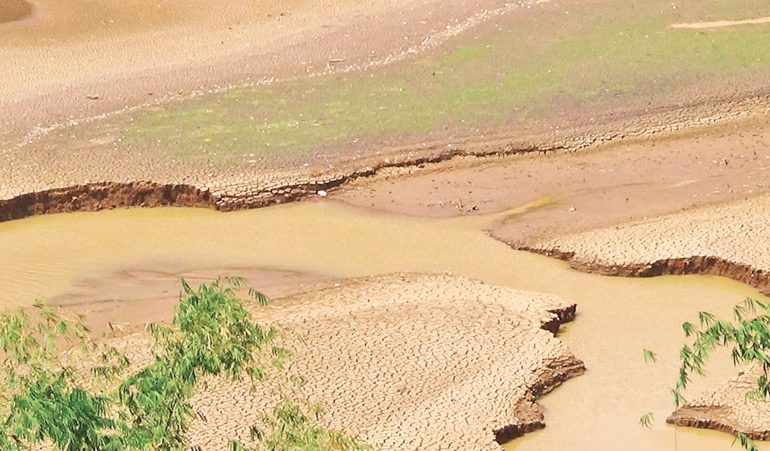 Extreme Weather Conditions Affecting the Island
More than 600,000 Sri Lankans Victim to Persistent Drought
More than 600,000 Sri Lankans from over 170,000 families are suffering around the island without adequate drinking water and are faced with severe food shortages as a result of the slow-onset drought that persists in the North, North Central, North Western and Eastern provinces of the country. The debilitating drought has affected 18 districts, with many of these areas having received only a few millimeters of rainfall in the past few months. The lack of rain has in-turn affected the farmers' cultivations with many of the irrigation tanks in the area having only a few feet of water left. Many farmers have not only been unable to harvest their crop but thousands of hectares of crops such as potato, paddy etc. have been destroyed as a result of the drought. Not only do these communities not have enough drinking water, but they also do not have enough food to eat. Drinking water has been distributed to the most severely affected divisions via water bowsers by the National Disaster Relief Services Centre (NDRSC); however officials from the Disaster Management Centre Units of these districts state that if the drought continues, the affected families will also have to be provided with dry rations as farmers are unable to harvest any crops due to the continued lack of rainfall.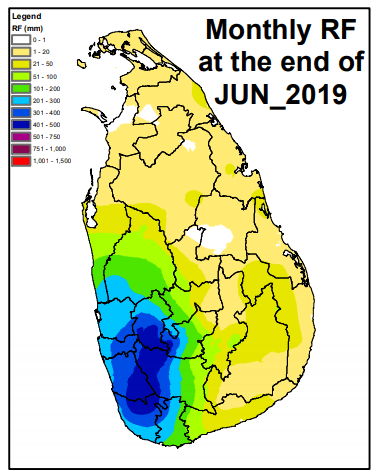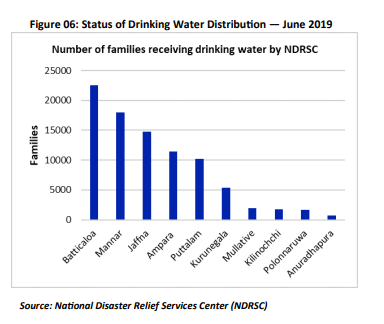 More than 1000 families affected by flash floods and strong winds
Whilst the North-Eastern Province battles with on-going drought conditions, the South-Western and Central Province were victims of flash floods, landslides and strong winds. The adverse weather conditions affected more than 1000 families. The deluge of rain which affected 5 districts resulted in flash floods and landslides that left 7 people dead and many shops and buildings destroyed. The National Building Research Organisation (NBRO) issued landslide warnings for Ratnapura, Nuwara Eliya, Kandy, Kegalle, Kalutara, Galle and Matara Districts. Following the deluge of rain, a landslide in Ginigathena resulted in the destruction of 10 shops and the loss of 1 life.
| | |
| --- | --- |
| Affected Districts | 5 |
| Affected Families | 1317 |
| No. of Affected Individuals | 5200 |
| No. of Deaths due to Floods / Landslides | 7 |
| No. of Completely Destroyed Buildings | 8 |
| No. of Partially Destroyed Buildings | over 1300 |
| No. of Damaged Shops | 28 |
The National Disaster Relief Services Centre stated that over 1300 buildings and houses have been destroyed due to strong winds and heavy rains mostly from Galle, Kaluthara, Matara and the Rathnapura districts.
A-PAD Sri Lanka in collaboration with the Disaster Management Centre and Sirasa Gammadda conducted several community flood awareness programs in the districts of Galle, Matara, Kalutara and Ratnapura earlier this year ensuring that the communities were educated on being prepared for the floods and also taught the basics of saving their lives and the lives of others at risk. A-PAD SL is continuing to monitor the inclement weather conditions around the country and will provide latest updates and situation reports to the membership.