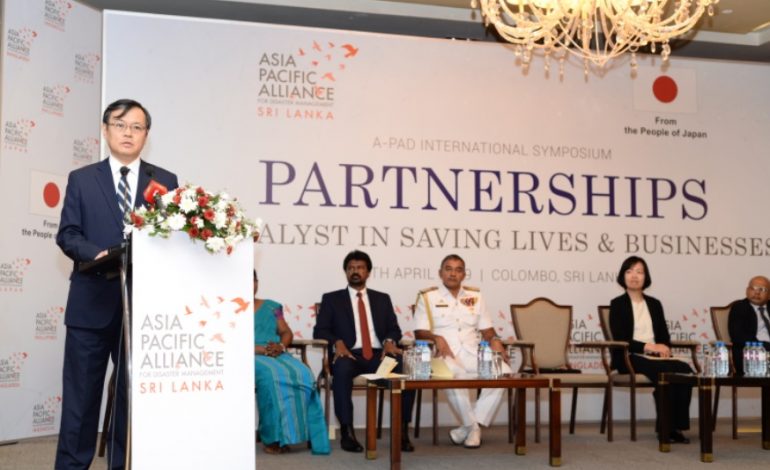 International Symposium 2019 – "Partnerships – A Catalyst for Saving Lives and Businesses"
Asia Pacific Alliance for Disaster Management, Sri Lanka (A-PAD SL) hosted its 5th Annual International Symposium on the theme "Partnerships: A Catalyst for Saving Lives and Businesses" on Wednesday, 10th April 2019 at the Cinnamon Lakeside Hotel in Colombo.  The event was graced by His Excellency Akira Sugiyama, The Ambassador of Japan to Sri Lanka,Vice Admiral Piyal De Silva, Commander of The Sri Lanka Navy and Mr. Faisal Djalal, Chairman A-PAD.  In attendance were representatives from the government, private sector, UN, I/NGOs, A-PAD member countries, and the Tri-Forces of Sri Lanka.
The aim of the symposium was to provide insight into sharing of best practices both locally and internationally amongst which importance of partnerships were highlighted. The importance of partnerships was highlighted through the address made by the Chief Guest, His Excellency Akira Sugiyama, "Partnerships surely add strength and effectiveness to disaster response and relief" as well as in the address by the guest of honour, Vice Admiral Piyal De Silva stated, "Natural disasters have a direct impact on sustainable development and countries' debt rate; therefore a robust mechanism should be in place during a catastrophe to effectively mitigate the impact of natural perils and to continue with economic activities to maintain the production levels."
The main aim of the event was attained through two panel discussions on Forging Bonds in Saving Lives: Civil Military Cooperation (CIMIC) and Ambitious Coalitions: Disrupt Industry Norms for Sustainable Development. The featured speakers and panelists were experts and key members of organizations in their respective fields who professed their ideas and practices in the relevant areas.
With the participation of more than 200 stakeholders from all sectors, A-PAD Sri Lanka concluded a successful symposium taking into account various suggestions and ideas by the discussion panellists as well as the participants.