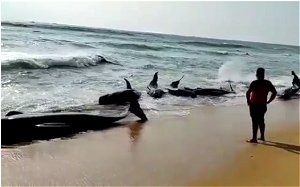 Sri Lanka Reports Mass Whale Beaching on Western Coast
On the 2nd of November 2020, an unnatural phenomena was reported from Sri Lanka when more than 100 pilot whales were stranded on the west coast in Panadura. Sri Lanka's Marine Environment Protection Authority (MEPA) confirmed that this was the country's largest mass beaching and the reasons behind the incident is under close examination.
Relentless rescue operations which lasted through the night were uderway with the joint efforts of Sri Lanka Navy, Sri Lanka Coastguard, volunteer groups and local communities. As a result, an estimated number of over 120 whales were successfully rescued and pushed back into sea while five whales were reported to have died due to injuries sustained when beaching.
Experts on the field of marine biology agree that there could be several explainations behind the stranding. Pilot whale strandings are not uncommon, with the most recent occurrence of this kind reported from Astralia over a month ago (September 2020) when 470 mamals were found beached on the Tasmanian shores.
However, from a Sri Lankan perspective, the occurrence is unusual and experts believe that the highly social nature of the species could be a reason, whereby the group may have followed one mamal who strayed too close to the coastline. With whales known to use sonar for navigation purposes, another explanation suggested that there may have been a confusion due to encountering ships on their natural route, as ships too use sonar for navigation.
During the rescue operations in Pandura, A-PAD SL was on site along with Sri Lanka Life Saving, I-CERT, Capital Maharaja Group – partners in search and rescue – in offering the utility of A-PAD and partner resources for rescue purposes. A-PAD continues to be on standby and will gather wider support from multisectoral partners in preparing and coordinating better in responding to emergencies of this nature.