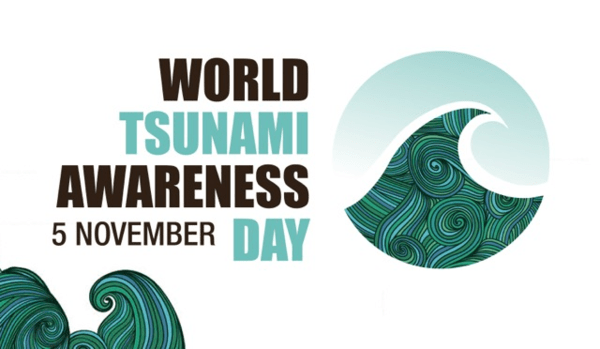 World Tsunami Awareness Day 2020
In December 2015, the UN General Assembly designated 5th of November as World Tsunami Awareness Day, calling on countries, international bodies and civil society to raise tsunami awareness and share innovative approaches to risk reduction.
World Tsunami Awareness Day was the brainchild of Japan, which due to its repeated, bitter experience has over the years built up major expertise in areas such as tsunami early warning, public action and building back better after a disaster to reduce future impacts. UN Disaster Risk Reduction (UNDRR) facilitates the observance of World Tsunami Awareness Day in collaboration with the rest of the United Nations system.
In 2004, Sri Lanka was one of the hardest hit countries as a result of the Indian Ocean Tsunami which is known to have been one of most devastating natural disasters in global history. It caused an estimated 227,000 fatalities in 14 countries, out of which Sri Lanka alone accounted for over 30,000, while more than 21,000 injuries were reported from the country.
The 2004 Indian Ocean Tsunami may seem distant. However, it doesn't mean that such an occurrence cannot recur once more. Therefore, the necessity to be prepared is essential.
For 2020, the Sendai Seven Campaign  –  an advocacy arm of  the Sendai Framework for Disaster Risk Reduction   –  specifically advocates the necessity to "Substantially increase the number of countries with national and local disaster risk reduction strategies." Keeping this in mind, A-PAD SL echoes the message conveyed by the UN of the need to have a plan in place in the face of a tsunami.
On Tsunami Awareness Day, A-PAD especially focusses on advocating the necessity for business and community resilience. A-PAD is well aware of Sri Lanka's coastal hotel industry which caters to the national economy by feeding the tourism sector immensely. It is significant that public-private partnerships are created in developing streamlined tsunami readiness strategies for coastal hotels and all stakeholders involved as preparatory measures. In doing so, chances are that more lives and businesses will remain safe and resilient.
Against a COVID-19 pandemic backdrop, we cannot forget the possibility of concurrent disasters – multi hazard scenarios, which are already shaping our future. On World Tsunami Awareness Day, A-PAD brings to light, the need to realize this, stay aware as well as be prepared nationally as well as individually in the face of tsunami emergency situations.