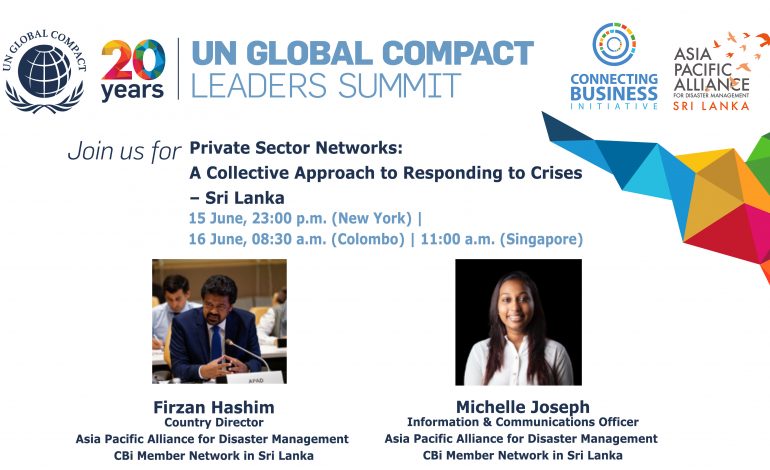 UN Global Compact Leaders Summit: 15th – 16th June 2020
The UN Global Compact Leaders 20th Anniversary Summit will bring together thousands of leaders to decide how business can support countries and communities around the world to recover better, recover stronger, and recover together from the COVID-19 crisis.
The Summit will virtually convene with leading voices from Business, Government, the United Nations,Civil Society and Academia for a 26-hour conversation on how to rebuild more inclusive economies and societies to set a new course for a socially just, low-carbon and climate resilient world, where no one is left behind.
The Connecting Business Initiative (CBi) will be hosting a UN Pavilion in which A-PAD SL received the exclusive opportunity to speak on the Sri Lankan context of Private Sector Networks: A Collective Approach to Responding to Crises.
Join us on the 16th of June from 8.30 am – 9.00 am (Sri Lanka Time) on the CBi Led UN pavilion and be a part of an exciting and impactful global event where all are  encouraged  to inspire, learn and contribute to the strong recovery the world needs.
Registrations can be done via: https://registration.unglobalcompact.org/website/12559/