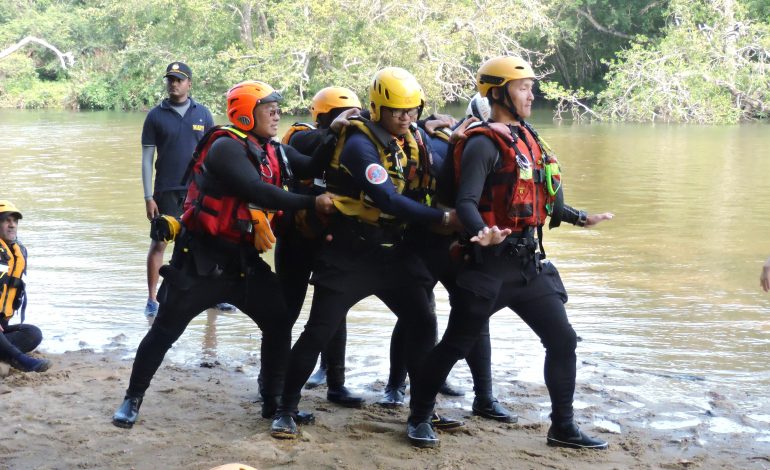 A-PAD Search and Rescue Training – Day 6 – January 21st
A-PAD SL, continued its international training in search and rescue swift water on the 21st, marking the 6th day of the training overall, but only the 2nd day of training for the second batch of trainees.
The trainees were made to perform the same degree of ropes and pulley systems that were shown and employed in the first training, named the 'high level system', which can be used in a plethora of versatile situations. The high level system is used globally in various situations from mountain rescue, swift water, and even in rescue environments of glaciers and ice, thus making it a crucial skill for the trainees to grasp and apply.
The trainees were tested and timed on their ability to perform every knot and construct of the system to ensure that the standard and application of this skill was met sufficiently. Following this, at a secondary location away from the RABS HQ, the trainees were instructed on the appropriate methods to perform river crossings in swift water, along with several water flow mechanics and strokes that would allow them to fully utilize the natural current of the water to their advantage.
Finally, trainees underwent a course on night survival skills, which encompassed their abilities to perform functions with limited vision and the precautions that should be taken in such situations. After successfully completing this aspect, the training for day 2 of the second batch was concluded by a brisk swim back to the base through the night, by using the skills of the strokes and swims they had gained through the day.
A-PAD SL, sponsored by the Ministry of Foreign Affairs Japan, in conjunction with the people of Japan, continue to bolster the long standing relationship held with their partners, such as the SL Navy and Disaster Management Center, to further the goal of improving the skills and mindsets of the nation to reduce the loss of life.
| | |
| --- | --- |
| Participants using the swift water crossing technique in pairs. | Participants using the protect pose to form a human longboat using the river's current. |
| A team of participants constructing the High Level System Set-Up in a timed exercise. | Instructors demonstrating the form to be used when crossing swift water. |
| Trainers demonstrating the correct form and distance to be kept when using the protect pose to form a human longboat. | Chief-Instructor, Chun-Yuan Huang, evaluating a team of participants' High Level System Set Up for any mistakes. |