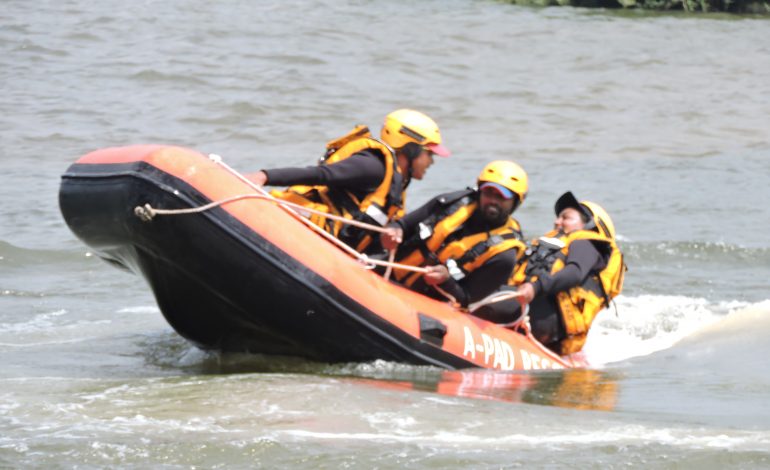 A-PAD Search and Rescue Training – Day 7 – January 22nd
A-PAD SL, sponsored by the Ministry of Foreign Affairs Japan, in conjunction with the people of Japan, partnering with the Sri Lanka Navy and Disaster Management Center, continued its international training in search and rescue swift water on the 22nd, which was the 7th day of training overall.
The second batch of trainees, on their last day of training for the programme course,  were instructed by the IRIA certified trainers on the correct method and mental assessments that need to be carried out when conducting a swift water rescue with the use of an Inflatable Rubber Boat (IRB) or Emergency Response Boat (ERB). The trainees were given theory lessons on how to assess the overall strength of the Water's current, the appropriate positioning to place the boat when attempting boar based rescues in buildings, the communication and signals to give to victims, and the methodology for strategizing for failed attempts.
IRB boat handling was called an essential skill that needed to be possessed by all participants as they were split into groups of three and each group was given command of their own IRB. The trainees were then shown the correct approach and boat handling moves they would be required to perform and grasp before the day was up. The two moves in question were:
1) an 'S' turn, which uses a sudden change in direction to avoid near oncoming obstacles and gathering speed in strong currents
and
2) an 'O' turn, which uses the momentum of the boat and the weight of the team to slant the boat towards the water's edge in a continuous circular motion and allows for rescuing of floating victims.
The trainees were congratulated by the trainers on their successful completion of the course and their unending enthusiasm and dedication towards the programme. Chief Instructor for the SAR programme and Team Leader of the A-PAD Inter-Nation Search and Rescue team told the participants that he had been to Sri Lanka prior to conduct similar trainings and would wish to continue to train these, now qualifies, rescuers, further as it had been a great privilege in his eyes.
| | |
| --- | --- |
| Participants surveying a flooded structure and using hand signals to convey their actions to the inhabitant victims. | A participant diving from the IRB to attempt a Bay rescue. |
| A team of participants slowly approaching a flooded structure to safely rescue stranded victims on rooftops. | A participant using Bay rescue to retrieve the victim. |
| A team of participants performing an 'O' turn in the A-PAD rescue IRB. | A-PAD SL, Country Director, Mr. Firzan Hashim, performing IRB rescue maneuvers with an IRIA instructor. |