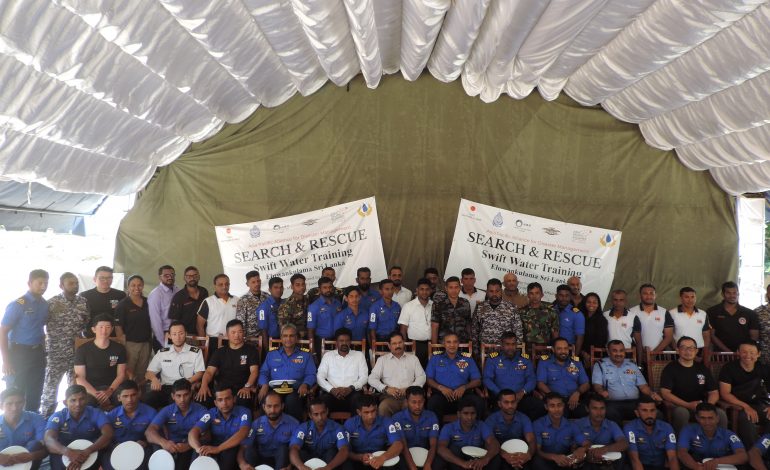 A-PAD Search and Rescue Training – Day 8 – January 23rd
A-PAD SL, sponsored by the Ministry of Foreign Affairs Japan, in conjunction with the people of Japan, partnering with the Sri Lanka Navy and Disaster Management Center, continued search and rescue international training programme, marking it as the 8th and final day of the training.
The day saw no actual training or exercises  done, as the trainees had successfully completed all aspects of the course, but instead were given a ceremonial graduation and certificate reception, hosted by the Sri Lanka Navy and the Rapid Action Boats Squadron. The event saw a great many special invitees attend the ceremony, namely, the Additional Secretary of Defense, Mr. Anuradha Wijekoon, the commander of the Sri Lanka Navy, Vice Admiral Piyal De Silva, Commander of the RABS, Cdr. Prasanna Hettiarachchi, The Japanese Defense Attache, Capt. Atsuhiro Moroe, Program Coordinator of A-PAD MO, Ms. Izumi Kishikawa, and Country Director for A-PAD SL, Mr. Firzan Hashim.
The ceremony was conducted by Lt.H.M.N.S.B. Herath of the RABS, and Ms. Michelle Joseph of A-PAD SL, who acted as the master of ceremonies. A brief welcome address was given by Cdr. Hettiarachchi, followed by a quick rundown of a full simulation exercise that was to be performed by the SL Navy given by Lt Cdr. Duminda Dayananda. The simulation exercise itself showed the tactics, equipment, and approaches taken by the RABS and 4RU of the SL Navy in conducting rescue operations pertaining to landslides and floods. The simulation showed the use of harnesses for safety, throw bags with lifelines, boat operation rescues, bridge rescues, rescue dogs in landslides, and even an airborne helicopter evacuation for flood victims stranded on rooftops.
The Sri Lanka Navy was very clear and welcoming, showing all members present, the methodologies and professionalism they adopt, in addition to their excellent response time and capabilities.
Following the simulation, short keynote speeches were given by the commander of the SL Navy, Vice Admiral Piyal De Silva, and A-PAD SL Country Director, Mr. Firzan Hashim, each speaking about the creation of the 4RU and A-PAD SL platform, respectively. The handing over of certificates proceeded these addresses, followed by an afternoon of congratulatory joy and excitement at the achievements of the now qualified rescuers and the positive impact that they will undoubtedly have on the nation, thus concluding the Search and Rescue Swift Water Training Programme.
| | |
| --- | --- |
| SL Navy 4RU extracting a landslide victim and performing first aid whilst evacuating the hazardous area. | SL Navy 4RU demonstrating the rescue of a victim caught in a well using a tripod and harness. |
| SL Navy 4RU performing a flood rescue by utilizing the ladder on boat placed in proper positioning to minimize risk of the rescuer and victim. | SL Navy 4RU in co-operation with the SL Air Force to conduct an airborne rescue for a stranded rooftop flood victim with use of a helicopter. |
| Commander of the SL Navy, Vice Admiral Piyal De Silva, giving his keynote speech at the ceremony. | Country Director of A-PAD SL, Mr. Firzan Hashim, giving his keynote speech at the ceremony. |