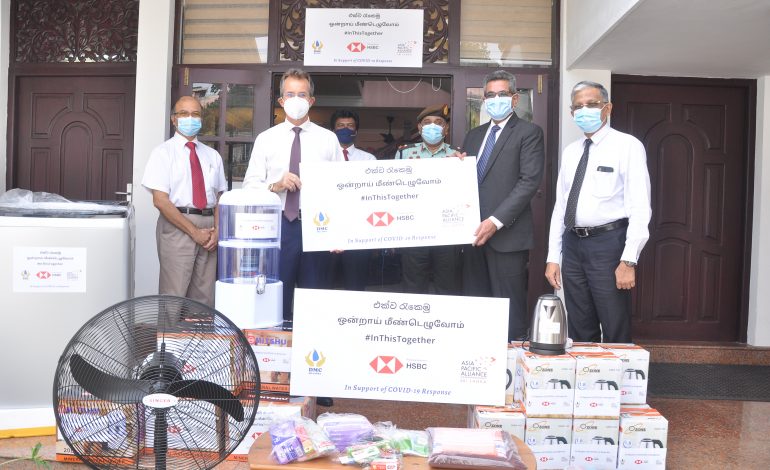 HSBC Sri Lanka Joins Hands with A-PAD SL in Responding to COVID-19 Second Wave
The COVID -19 Second Wave has seen an increased rise in the number of patients as opposed to the first wave, with hospitals and quarantine centers reporting excessive numbers. Taking this into consideration, HSBC Sri Lanka reached out to A-PAD SL, voicing their wish to support the health sector by furnishing the gaps of possible requirements.
A-PAD was eager to ensure that this noble gesture was met, and provided technical support as well as connected with the Ministry of Health and the Disaster Management Center (DMC) in understanding the current requirements which needed attention. Accordingly, the Disaster Preparedness and Response Division (DPRD) of the Ministry of Health suggested several equipment of non-medical variety which could enhance the capacity of COVID-19 Centres.
Acting upon the information received, the HSBC/A-PAD partnership was able to provide pedestal fans, washing machines, electric kettles, water purifiers, linen and towel packs, wellness packs and customized hygiene packs for men and women to the Ministry of Health to be distributed among COVID-19 Centres.
The items were officially handed over at A-PAD Office by Mr. Mark Prothero, CEO, HSBC Sri Lanka and the Maldives to Dr. S.H. Munasinghe, Secretary, Ministry of Health in the presence of Dr. Asela Gunawardena, Director General, Health Services, Major General Sudantha Ranasinghe, Director General, DMC, Dr. Hemantha Herath, Deputy Director General, Ministry of Health, Dr. Novil Wijesekara, Disaster Preparedness and Response Division (DPRD), Ministry of Health, Ms. Dilini Fernando, CSR Manager, HSBC Sri Lanka and Mr. Firzan Hashim, Country Director, A-PAD Sri Lanka.