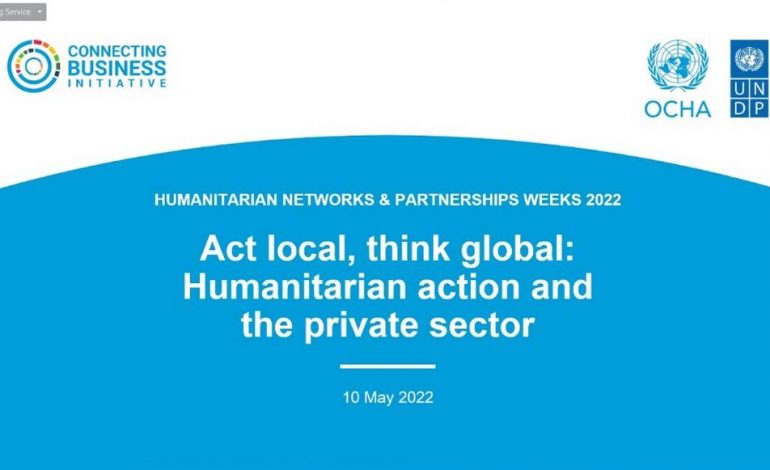 Humanitarian Networks and Partnerships Week 2021
The Humanitarian Networks and Partnerships Week (HNPW), co-chaired by OCHA and the Swiss Agency for Development and Cooperation (SDC) is a week-long series of sessions and panel discussions that allow humanitarian networks and partnerships to deliberate on crucial humanitarian issues. This event garners knowledge, expertise and insights from the UN, NGOs, Member States, private sector, military academia on common humanitarian-related challenges. Due to the COVID-19 pandemic restrictions, HNPW 2021 was held entirely online from the 19th of April to the 7th of May 2021. 
A-PAD SL contributed to the first session on the 26th of April, organised by the Connecting Business initiative (CBi) on Private Sector Engagement in Humanitarian-Development-Peace Collaboration. The purpose of this panel discussion was to encourage private sector actors to participate in the Triple Nexus approach to humanitarian development and peace. Among the panelists were Mr. Firzan Hashim, Country Director, A-PAD SL, Ms. Jaki Mebur, Market Engagement Manager, Mobile for Humanitarian Innovation Programme for Africa, GSMA and Mr. Sudipto Mukerjee, Resident Representative, UNDP Bangladesh while the session was moderated by Mr. David Young, Managing Director & Senior Partner, Boston Consulting Group.
Each speaker was asked to highlight good practices and lessons learned from humanitarian, development and peace practitioners working alongside the private sector. Mr Firzan Hashim contributed to the discussion by providing concrete examples and instances of where the private sector stepped in to aid the Sri Lankan government and humanitarian sectors on development and peacebuilding efforts during the latter parts and the aftermath of the 30 year civil conflict in Sri Lanka. Mr Hashim further highlighted the manner in which the private sector has acted as a neutral entity by absorbing individuals into their organizations regardless of their race, religion or community through the provision of job opportunities
Indeed, this experience was invaluable for A-PAD SL as a platform to capture and highlight its activities internationally especially as the new CBi Member Network Representative 2021. Through this panel discussion, we were also able to share our knowledge of best practices and learn from the other participants on public private partnerships for humanitarian and peacebuilding purposes.
The summary link of this event can be found at:  https://drive.google.com/file/d/1FI6k5ZPyPkjuuyps6wx-90pXs6x4IIfA/view?usp=sharing
The live recording can be found via: https://www.youtube.com/watch?v=vMWbHRlX0wE