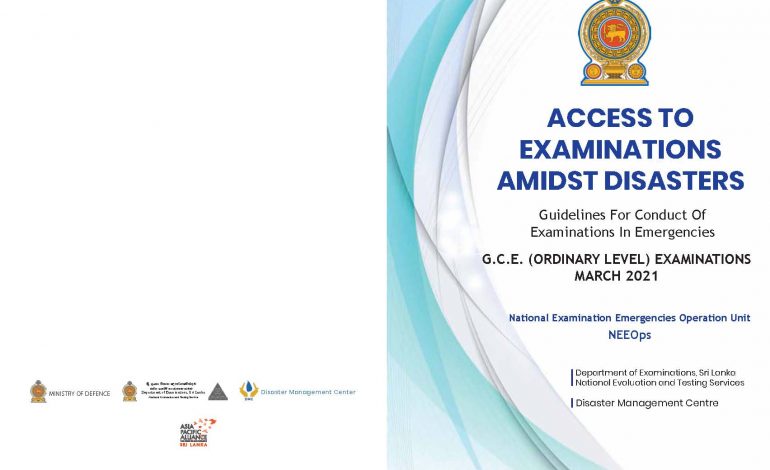 Preparing for G.C.E. O/L Examinations amidst Disasters
Since the year of 2019, A-PAD Sri Lanka has been engaged in the process of formulating guidelines in view of national priorities such as examinations and elections. Keeping in line with this tradition, the platform in coordination with the Disaster Management Center (DMC) and the Department of Examinations took initiative in drafting guidelines in emergencies ahead of the G.C.E. Ordinary Level (O/L) Examination 2020.
The G.C.E. O/L examinations although scheduled to be held in 2020, was periodically postponed due to the severity of the COVID-19 outbreak. Therefore, taking into consideration the prevailing conditions, it has been rescheduled from the 1st to 10th March 2021.
The Department of Examinations (DoE) will conduct the O/Ls with a total of 622,352 Grade 11 students having registered to sit for the examinations. The candidates will be occupied in 4,513 examination centres managed by 542 examination coordinating centres. For the period of the exams, 38 educational divisions have been established while over 40,600 officials and invigilators will ensure the conduct of examinations.
"Access to Examinations amidst Disasters" is a document which encompasses procedures and operational plans in conducting examinations amidst intersecting disasters. Recognizing the significance of emergency preparedness and especially keeping in mind, the present coronavirus situation as well as the inter monsoonal period of March/April, the guidelines and directives will coordinate plans and facilitate execution in securing students during the examination season.
The wellbeing and safety of the children is of the highest priority and cannot be emphasized enough. Therefore, the document was formulated, taking into consideration all necessary precautions. A-PAD involvement and the public-private partnership born out of this joint effort was especially commended by the Commissioner General of Examinations, and the platform was encouraged to continue its good work in this regard.
 "Access to Examinations amidst Disasters", was handed over Mr. Sanath Pujitha, Commissioner General of Examinations by Mr. Sunil Jayaweera, Director, Preparedness and Planning, Disaster Management Centre (DMC) in the presence Mr. Firzan Hashim, Country Director, A-PAD Sri Lanka for effective circulation.
The document can be accessed via:
https://drive.google.com/file/d/1aTjaDUdkzfAeb_pJIN0ZpeDgjh_WFz4E/view?usp=sharing