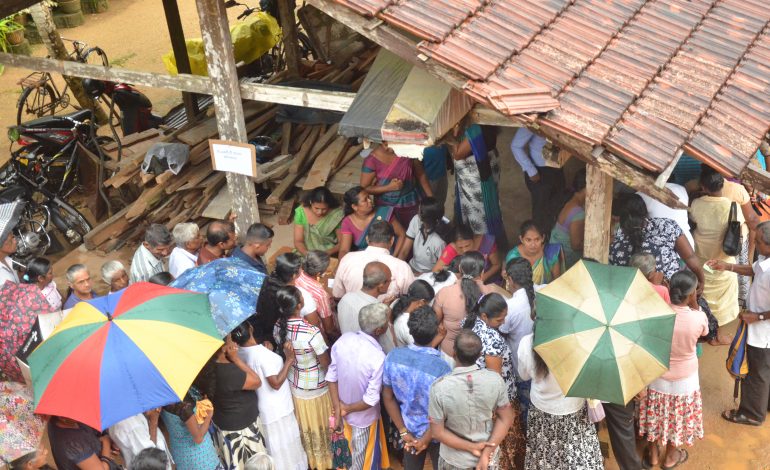 ZERO DEATH CAMPAIGN Flood /Landslide Early Warning 2019 GALLE DISTRICT
A-PAD Sri Lanka in collaboration with the Disaster Management Centre (DMC) and Sirasa Gammadda conducted day 3 of the flood/landslide early warning on Wednesday, 22nd of May 2019 in the Galle Administrative District focusing on the most vulnerable areas namely Nagoda, Welivitiya Divithura and Baddegama with a participation of over 1300 individuals while the maximum number of participants were recorded from Nagoda.
Special guests from national and local authorities along with military personnel attended the campaign in promoting early preparedness amongst the flood/landslide prone communities.
Sri Lanka Life Saving in demonstrated basic CPR and localized water survival techniques using plastic water bottles and school bags. A-PAD Sri Lanka team explained the importance of an emergency 'Grab Bag' in case of an emergency evacuation.
Day 3 of the awareness campaign concluded successfully with the distribution of informative leaflets and posters as well as stickers indicating emergency contact numbers.
Ms. C. Rajakaruna – Divisional Secretary, Nagoda
---
Mr. W. A. Dharmasiri – Director General, Disaster Management Centre
Mr. Kithsiri Dayananda – Director of Administration, Gammadda
Mr. Sunil Jayaweera – Director, Preparedness and Planning, Disaster Management Centre
OIC Dammika Dias, Sri Lanka Police, Nagoda
Mr. Prasanna Athukorala, Secretary General, Gammadda
Lt. Col. Dampath Ratnayake – Assistant Director, DDMCU, Galle
Mr. Dammika Prabath – Sri Lanka Life Saving